EDITORIAL: Welcome Africa
8/6/2014, 3 p.m.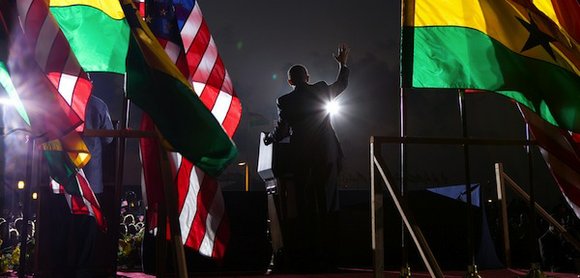 All week, Washington, D.C. has been Africa Central, as dozens of African leaders are in town for meetings with President Barack Obama.
The U.S.-Africa Leaders Summit is the first event of its kind, the largest gathering any American president has held with African heads of state and government.
The real Africa rarely makes the news in Western media unless it's about malnutrition, the Ebola outbreak, coups or natural disasters. But there's a great deal of good going on across this vast continent of 54 nations. While much of the world has been mired in the economic doldrums, Africa's economy as a whole has been growing at a 5 percent clip for the past several years. Innovation is popping up everywhere and young people, especially are making their marks in business, technology, the arts and politics.
Africa, with its abundance of mineral and other resources, is the last frontier, which is why China, Brazil, India, Saudi Arabia and others are flocking there seeking to cash in on the riches. The United States is playing catch up. As Rep. Karen Bass noted recently, there's a huge gap in total trade with Africa when the U.S. is compared to some of its counterparts. Currently, that stands at $60 billion, while the European Union transacted $200 billion in trade last year. China, in a global search for resources, negotiated $170 billion in business.
The Obama administration seeks to strengthen ties that it acknowledges is one of the world's most dynamic and fastest growing regions and the Summit will focus on trade and investment in Africa.
Both sides come to the table with clear needs. African countries lack the broad technical know-how and expertise commonplace in developed countries, but they have the workforce and resources the U.S. sorely needs. America, in search of new markets, can benefit because of a burgeoning middle class in all corners of the continent that wants all the amenities a middle- and upper-class lifestyle demands.
We hope African leaders come to the table as equal partners and aren't here to be lectured to or told what America wants. We hope, too, that in their discussions with Obama these leaders won't give away their considerable resources for little or nothing. Africans have enormous leverage because the U.S. has what they need. This reality should enable African leaders to negotiate smart, sensible deals that fully benefit their citizens back home.