Kathy Sledge Brings Billie Holiday Tribute to D.C.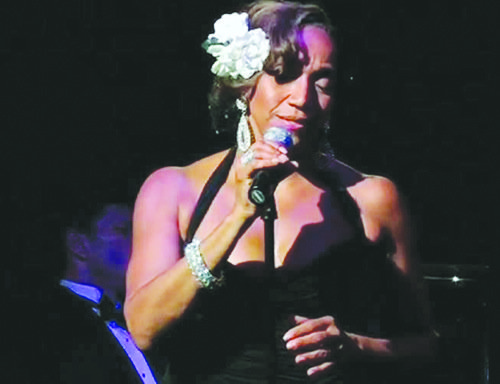 This lady doesn't mind singing the blues.
Kathy Sledge of the legendary soul group Sister Sledge will bring her Billie Holiday tribute show, "A Brighter Side of Day," to the Blues Alley and Supper Club in Northwest for four performances on Friday, August 8, and Saturday, August 9.
Each evening, Sledge will perform an 8 p.m. and a 10 p.m. show.
"I've been told that I bring Billie Holiday to life on stage," said Sledge, who along with her three sisters, Debbie, Joni, and Kim, recorded such iconic hits as, "We are Family," "Lost in the Music," and "He's the Greatest Dancer."
"I want to portray Billie in a way that she'd be proud," said Sledge, 55, who noted that the production has adopted the name, "A Brighter Side of Day," to show the late Holiday's outstanding attributes.
"I feel that if we don't tell the story of our icons, someone else will tell [those stories] and we won't be so proud of [them]. I want to do Billie Holiday in a way that she'd be proud," she said.
As an example, Sledge said the pop icon Marilyn Monroe lived a very challenging life. "But, we're not reminded of that side of her life, just the glamorous side," she said. "I think that it is up to us to tell our own stories, of our great artists, and to lift them up for the legendary reasons that we know."
For the Holiday tribute, Sledge reached out to former Atlantic Records president Jerry Greenberg. "She just blew me away," Greenberg told Billboard magazine. "We decided to form a partnership," he said.
Produced by Stanley Clarke, "A Brighter Side of Day," takes audiences on a musical journey of Holiday's tumultuous life. Most importantly, it's a tour de force that features such groundbreaking recordings as, "Lady in Satin," "Lover Man (Oh, Where Can You Be?)," "Strange Fruit," and "God Bless the Child."
Born Eleanora Fagan in 1915, Holiday grew up in Baltimore and rose to fame in the 1940s and 1950s with a soulful, unique singing voice and the ability to boldly turn any material presented her into her own music.
As a teenager, Holiday shared recording studios and the stage with Bessie Smith and Louis Armstrong. Performing in nightclubs in Harlem, New York, Holiday earned the nickname, "Lady Day."
She became one of the first black women to work with a white orchestra when she joined Count Basie in 1937 and, a year later, Artie Shaw.
Despite her lack of technical training and her inability to write or read music, Holiday's unique diction, inimitable phrasing and acute dramatic intensity made her the outstanding jazz singer of her day.
Holiday died in 1959 at age 44.
In 1972, Motown Records produced a feature film about Holiday titled, "Lady Sings the Blues." The motion picture starred soul diva Diana Ross, actors Billy Dee Williams and the late Richard Pryor. The film received five Academy Award nominations, including Best Actress.
At a young age, Sledge said when her mother took her to see the movie, it changed her life. She said everyone, including her family members, said she could imitate Holiday better than anyone else. During many of Sister Sledge's shows, she'd perform a Billie Holiday routine.