LETTERS TO THE EDITOR: Remember Trayvon Martin, Jordan Davis
8/6/2014, 3 p.m.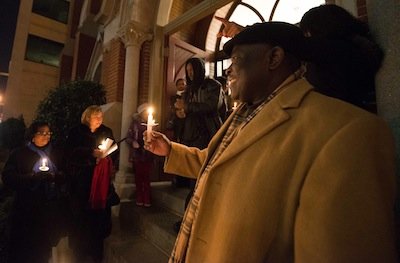 Your article, "Judge's Ruling Upends D.C. Gun Ban," by Barrington Salmon [July 31, 2014 edition] is just another sign of the gentrification process taking place in Washington, D.C.
For almost 40 years while the city was majority black it was almost impossible to own a gun in the District of Columbia. Now that whites are moving back into the city, spending outrageous amounts of money for houses, all of a sudden the law of the land feels the need for them not only to own guns but they need to be able to carry them in public to show their power.
Individuals who carry guns in public are trying to psychologically intimidate those around them who do not have guns, nothing more.
I am in complete favor of being able to own a gun, but toting them around in public is something completely different. Those who carry guns in public think they have the right to use them when they feel they need to, not when the law gives them the right to. It's shoot first, then let the law figure out who was right or wrong. Let's not forget what happened in Florida where similar gun laws allowed young black men to be shot down for eating Skittles and playing loud music.
Harold W. Ferguson
Washington, D.C.
Wonderful Book Reviews!
I want to thank the Informer for bringing to my attention the book, "Risking Everything: A Freedom Summer Reader," edited by historian Michael Edmonds and reviewed in your July 24-30 edition by Terri Schlichenmeyer.
The book documents the 1964 Freedom Summer project that involved civil rights workers and other volunteers who traveled to Mississippi to fight segregation.
Being a history buff whose interests lie in the contributions made to this country, through the blood, sweat and tears of African Americans, I was elated to discover the book and immediately ordered a copy. Please keep up the good work of educating and informing the community, and I look forward to "stumbling across" other great reads among your book reviews.
Marjorie Adams
Washington, D.C.
Minds Shouldn't be Wasted
I just loved William Reed's Business Exchange in this week's Informer, "A Rising Tide Lifts all Boats." I get the feeling that Mr. Reed is a conservative, or from reading his column, which I do every week, that's what I've gleaned to date.
I have to agree with him on the fact that the president of AFSCME was wrong to end its relationship with the UNCF just because it accepted money from the Koch brothers. Yes, the Koch brothers are rich and conservative and they support a number of conservative groups, but that's their right, and that's a whole different story.
The money they gave was to support scholarships at the UNCF, and even if it's for some conservative scholarship, that's fine; it's educating young minds. There are black conservatives out here, poor young black conservatives that need help getting an education. Education is the key; if you are educated you have a better chance of being able to understand why one chooses to become a conservative or a liberal.
I sincerely hope the president of AFSCME reconsiders his decision and reinstates the union's relationship with the UNCF.
Benjamin King
Washington, D.C.