Mentors Take Youth to New Heights
Cross-Country Trip Leads Boys Down New Roads to Success
D. Kevin McNeir | 8/6/2014, 3 p.m.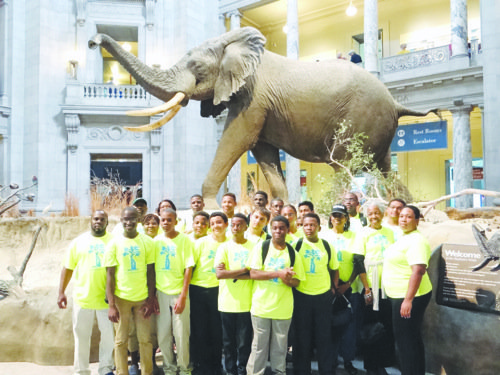 The challenges facing young black males in America have prompted some leaders to conclude that these youth face extinction if things do not change.
But one Central Florida mentorship group has committed itself to exposing at-risk male students to new ways of seeing the world and envisioning their future. As part of the mentoring program, sponsored by the Tri-County Orthopaedic Center in Leesburg, Florida, 17 middle and high school youth traveled to D.C. and Baltimore last weekend as a reward for their academic success.
"We had difficulty in recruiting young black males into the medical specialty of orthopedic surgery and realized that we needed to start with youth in middle school," said Dr. Claudia Thomas, who founded the mentoring group in 2007. "My medical practice is comprised of six black surgeons, many of whom I mentored. Collectively we're helping young boys go from aspiring athletes and rappers to engineers, scientists and physicians," said Thomas, 64, a Lady Lake, Florida resident and the first black woman to become an orthopedic surgeon in the U.S.
The mentored youth, ages 12 through 17, along with Thomas and other volunteers, visited Baltimore, Maryland and Washington, D.C. for a four-day sightseeing trip that ended on Sunday, August 3 with worship at Union Temple Baptist Church in Southeast.
One of the volunteers, a trustee at the church and the sister of Thomas, said the worship experience instilled a sense of pride in the youth.
"When you walk into the church the first thing you see is a mural of Jesus with 12 people of color surrounding him – blacks from history that have made a positive impact in their communities and in the world," said Catherine Thomas. "The message is always one of empowerment and the realization that the same power that Christ had is inside of all of us if we just access it. Young males need to hear a different message about who they are and who they can become," said Thomas, a Fort Washington, Maryland resident.
Most of the boys come from single-parent homes and prior to the trip, only a handful had ever seen the Washington Monument, the Great Blacks in Wax Museum or the National Mall.
"I've seen a whole new world on this trip and it makes be proud to be a black American," said Patrick Bushee, a high school junior in Leesburg, Florida. "The accomplishments that blacks have made in D.C. are amazing and seeing them helped me realize that when people criticize black youth, it's because they have a problem not me," said Patrick, 16, who said he wants to one day become an Air Force firefighter.
One middle school instructor who has been a volunteer with the mentoring group since its inception said black professionals must help to create new opportunities for the next generation.
"I've worked with over 350 children, mostly black, who can prove that when given the chance, our youth can achieve whatever they desire," said Denise Kinsey, 58. "As mentors, we've seen youth change from an attitude of can't to one that believes they can and will," said Kinsey, a resident of Leesburg, Florida and a teacher at the city's Carver Middle School.