Pro-Palestinian Protest Brings Thousands to White House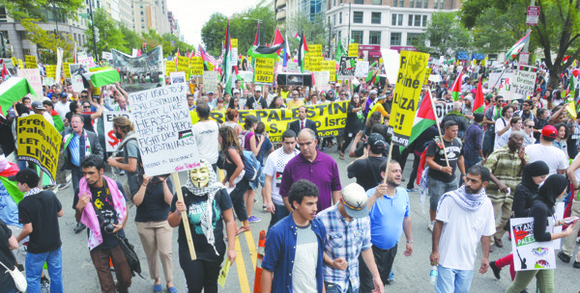 Tens of thousands of demonstrators marched to the White House on Aug. 2 to express their outrage against Israel's most recent military offensive in Gaza.
The vast crowd, many wearing the red, black, green and white colors of the Palestinian flag, spilled out of Lafayette Park and packed the plaza in front of 1600 Pennsylvania Avenue. They called for peace and an end to the fighting in Gaza. A coalition of Arab-American, Muslim and anti-war groups organized the "Stop the Massacre in Gaza" National March. Organizers estimated that about 50,000 people took to the streets.
At the demonstration's conclusion, the crowd marched to the Washington Post and laid mock coffins in front of the building. President Barack Obama has vigorously supported Israel's right to defend itself while criticizing the number of civilian deaths. He didn't see the protests because he was off playing golf and spending time at Camp David.
Since June 8, the Israeli military has killed 1,700 Palestinians, mostly civilians and injured more than 9,000. Sixty-six Israelis have died in the conflict, all but two of them soldiers.
Sa'id Alwan stood in a sea of demonstrators holding up a handmade sign criticizing Israel and Obama for the slaughter of civilians.
"I'm against the murder of children and innocents," the Alexandria, Virginia resident of Palestinian origin said. "Ninety-eight percent of Israeli casualties are soldiers, while 98 percent of Palestinian casualties are civilians; that tells you a lot."
Alwan, a technician and father of three whose mother and sisters live in the West Bank, said "the issue has been ignored for too damn long."
"Obama has no power. That's why we're here. It's the Israelis who have the power, have the money and control the media. But that doesn't matter because it's gonna change. What puzzles me is that they actually think they're right but the balance will tip. It won't be long, it won't be long…"
The crowd – parents holding babies, children perched on their fathers' shoulders, pregnant women, the old, young and the in between – filled the air with chants. Among the protesters, a group of Orthodox Jewish men, supporters of the Palestinian cause, stood quietly, holding hands, heads bowed.
Around the park and plaza throughout the demonstration and march, clusters of people would spontaneously break out in chants, "Free, Free Palestine!" and "We will not be silent!"
Just about everyone it seemed wore Palestinian colors on bandanas, scarves, and headbands, while some draped large Palestinian flags on their shoulders. Significant numbers of women wore hijabs and headscarves and many people wore the traditional Palestinian keffiyeh scarves.
Some signs said "We Don't Want Your Bloody War," "Where is Gaza's Iron Dome?" "Israel = KKK" and "You Don't Need to be Muslim to Stand Up for Palestinians." A number of placards showed grisly images of dead and injured children.
Arlington, Virginia resident Maria Ochoa and her 18-year-old son Bruno stood listening to several speakers.
"We just wanted to come and support the Palestinian people," said Ochoa as she held up a mock coffin draped with the Palestinian flag. "It's very inhumane and sad. My son and I came to be part of a peaceful protest."