U.S.-Africa Summit Tackles Difficult Issues
African Leaders, Obama Work to Strengthen Economic Ties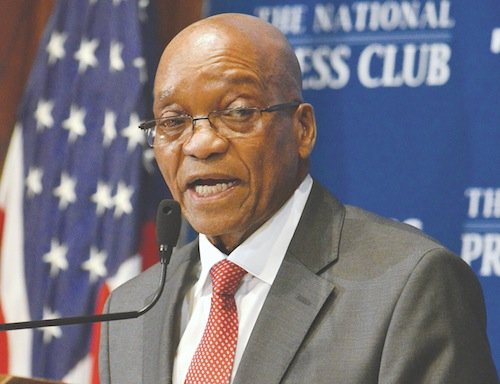 It should be no surprise a landmass that could easily fit the United States, China, New Zealand, Bangladesh, India, Peru, Greece, Mexico, Papua New Guinea, and most of Europe has a bag of continent-sized issues stalking Africa's 54 nations and its more than one billion people.
But over the course of three historic days, the focus of 50 African presidents and heads of state, President Barack Obama and members of his administration has been to look at these problems as opportunities.
South African President Jacob Zuma said as much during remarks before a standing-room-only crowd at the National Press Club Tuesday afternoon.
"Ladies and gentlemen, we really have a good story to tell about South Africa's democratic growth but we'll be the first to admit that there's much still to do as we confront the triple challenges of unemployment, poverty and inequality," he said. "Fortunately, we have a road map. By 2030, we want poverty to be history, unemployment to be reduced and growth to average 5.4 percent."
"These will not be easy targets but with determination and hard work, we can make it."
Zuma, 72, who is serving a second five-year term as head of state, catalogued his country's progress over the last two decades.
"Our country has come of age in a very short time, but we have made enormous strides," he said.
Zuma said progressive and well-thought-out policies have seen results in the areas of housing, electricity and sanitation, with the number of South African citizens who live in extreme poverty dipping to 16 million. About 600 U.S. companies are investing in South Africa and this year, Zuma said, 130 foreign companies have entered the South African market for the first time or have increased investments. That translates to $8.2 billion, a 100 percent increase from 2012. The tax base has been expanded more than ten-fold, market capitalization has soared and his government has tamed inflation, Zuma added.
"South Africa is open for business," he said. "… We look forward to the further expansion of trade and other investment opportunities with the U.S. and other key markets."

Zuma reiterated the determination that African problems be solved by African people.
Rwanda's President Paul Kagame agreed.
"I think even through a partnership like this one, that this summit provides, Africa needs to continue building our capacity and strengthen our institutions to enable us to avoid over-dependence which has been there for too long," he said during a panel discussion with Charlie Rose at the U.S.-Africa Business Forum. "But you have to avoid that by building capacity, cooperation and integration and people working together."
"We (must be) able to own up to our weaknesses, our mistakes and own up to our solutions and contribute to our solutions. We can't even tell our story. We even depend on others to tell our stories which leads to distortions.This is an opportunity in front of us to leverage this partnership and address particular problems."
The U.S.-Africa Summit, held August 4-6, is seen by Obama as a critical first step to bring all the players on the continent together, discuss core issues like trade, commerce, peace and security but also to delve into corruption, democracy, the role of civil society, and enhancing the ability of women to participate fully in each countries' affairs. Throughout the confab, the specter of Ebola hung over the summit. The virus has broken out in three West African countries and so far, the epidemic has taken almost 800 lives and infected more than 1,300 people.