COMMENTARY: Becky Hammon, NBA Both Blazing Trail for Women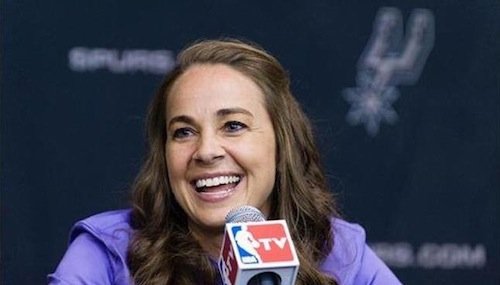 I've been blessed with the opportunity to write a weekly sports commentary for The Washington Informer. It's not a right, it's a privilege — one that I don't take lightly.
Last Tuesday, I received an e-mail from my colleague, Stacey Palmer, on the San Antonio Spurs' signing of Becky Hammon as an assistant coach. Stacey is our social media expert, and as I read her e-mail I was reminded of what makes Stacey so special. Simply put, she cares, particularly as it relates to barriers of injustice being overcome. So it's no surprise that Stacey would send me such an e-mail. Shout out to Stacey!
For the first time in NBA history, a team will have a woman a salaried, full-time coach as part of its staff. Hammon's hiring is major, and serves as an indicator that the NBA is turning the corner in its effort to become more inclusionary on all levels. The league has long marketed itself as a global entity. Now, it is showing the world that there is room for women.
Over the past few decades, women have made significant strides in various professions. In government, business, media, medicine, etc., women have taken on leadership roles and performed very successfully. It was just a matter of time before this momentum would break through gender barriers in the NBA.
Not to mention, Hammon undoubtedly has the bonafides. She's played with the WNBA's San Antonio Stars for the past eight seasons, earned All-Star status six times and was voted one of the league's top 15 players of all time. The 37-year-old point guard has proven leadership skills on and off the court, lots of basketball experience and, as Spurs head coach Gregg Popovich put it, great "interpersonal skills."
She certainly couldn't ask for a better situation. The geographical proximity alone has made it much easier for the Spurs organization to follow Hammon's career and become more familiar with her as a player and a person. Additionally, she'll be coaching a veteran team full of unselfish, coachable players with championship pedigree — always a plus for a rookie coach.
What will also be helpful for Hammon is that she was hired by the universally-respected Coach Pop, who's led the Spurs to five NBA titles. In a league where it's very important that the players respect the coach, many players will respect Hammon if for no other reason than their respect for Popovich. This will give her the opportunity to establish her own coaching identity over time, and ultimately escape Pop's shadow.
On an aside, a minor but important detail yet to be determined is where Hammon will shower. The NBA is a men's league, after all, and Hammon is a woman. Typically, during pregame warmups and shoot-arounds, assistant coaches are on the floor working with the players, going through drills, etc., and it's not unusual for them to take a shower between then and tip-off. The league will have to make some sort of adjustment, but I'm sure it will all get resolved.
In the meantime, I'll continue to celebrate Hammon's great accomplishment. Today, the league has a woman assistant coach, and it's just a matter of time before an NBA team has a woman in the role of head coach. Who knows? It may be Becky Hammon.