Born in '88? You'll Want to Read This
Marlon Marshall and Jen Mishory | 8/13/2014, 2 p.m.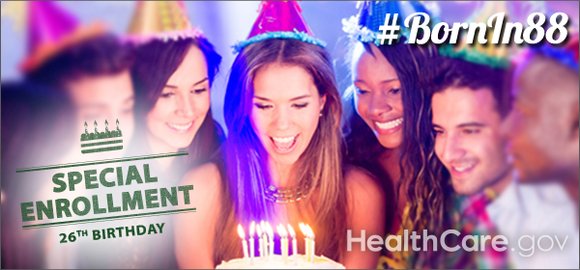 If you're turning 26 this year, then you know that 1988 was more than just the year the movie Big premiered or that Michael Jackson sang Man in the Mirror — it's the year you were born!
But your birth year is significant now for one more reason: being born in '88 means that you may be aging off a parent's insurance plan and have the option of new, low-cost health insurance as you strike out on your own.
Here's the deal: you can start shopping for health coverage 60 days before you turn 26.  If you choose a health plan before your 26th birthday, your coverage can begin as soon as first day of the month that you get dropped from a parent's plan.  But, if you wait until the last minute and you age off your parent's plan, you still have 60 days after your birthday to get covered.   And when you shop on healthcare.gov, you'll find that you may qualify for tax credits and other cost savings to reduce your monthly insurance costs. Those credits are based on your income. 
If you miss both of those windows, you'll probably have to wait until the next Open Enrollment period, which begins on November 15.  There's one exception: if you (or anyone else, not just 26 year-olds) experience a life-changing event, such as a move, a marriage, a divorce, or the birth of a newborn, you might also qualify to select a new plan ahead of November.
The bottom line: if you're on your parent's plan, protect yourself from an unexpected injury and financial burden by signing up for a new health plan as you near your 26th birthday. You're part of an age group that ends up in the emergency room more than most adults -- at a rate that's second only to seniors -- and the price tag of a hospital visit is hefty.
We encourage you to visit HealthCare.gov, or to call 1-800-318-2596, to learn more. And if you want to hear from someone who has already successfully found themselves coverage after aging off a parent's insurance, check out Amanda's story. Or even better, when you're done getting yourself covered, share your own story!
About the authors:
Marlon Marshall
Special Assistant to the President and Principal Deputy Director of Public Engagement
The White House
Marlon Marshall serves as Principal Deputy Director of Public Engagement. 
Most recently, Marlon was a founding partner at 270 Strategies.  Before that, he was the Deputy National Field Director for President Barack Obama's re-election campaign, where he helped lead its national voter registration and get-out-the-vote programs.
As National Field Director for the Democratic Congressional Campaign Committee (DCCC), Marlon oversaw the team that designed and implemented field plans for targeted congressional races across the country.  He as was appointed as the DCCC's Deputy Executive Director before his departure to the 2012 Obama campaign.
Jen Mishory
Executive Director
Young Invincibles
Jen Mishory is the Executive Director and a founding staff member of Young Invincibles. Jen has conducted extensive research and authored numerous reports on health, higher education, and economic issues facing the Millennial generation. She has testified before Congress in both the House and Senate on the issue of financial aid and student loans, and serves as a member of the inaugural Consumer Advisory Board of the CFPB. She also served as the consumer advocacy negotiator for the Department of Education's 2012 negotiated rulemaking around student loans, and previously served as a consumer representative for the National Association of Insurance Commissioners, where she worked with Insurance Commissioners around the country to ensure strong consumer protections in the health care industry for young people.