CBC Commends Hagel's Ruling on Hairstyles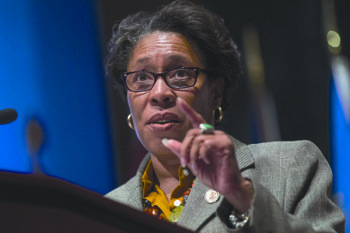 Rep. Marcia Fudge (D-Ohio), chairman of the Congressional Black Caucus, praised Secretary of Defense Chuck Hagel for changing a policy that basically demeaned African-American women's hairstyles.
Hagel announced Tuesday that female service members will be granted more leeway regarding their hairstyles. The change came after black female members of the caucus railed against regulations that categorizing some black women's hairstyles as unfit for service.
"I'd like to thank Secretary Hagel for his prompt attention and response to the concerns expressed by women of color serving within our Armed Forces and to the women of the Congressional Black Caucus," Fudge said. "These changes recognize that traditional hairstyles worn by women of color are often necessary to meet our unique needs and acknowledge that these hairstyles do not result in or reflect less professionalism or commitment to the high standards required to serve within our Armed Forces."