Democrats Push Middle-Class Agenda
Pelosi, Edwards Meet with Women at Shortcake Bakery
William J. Ford | 8/13/2014, 3 p.m.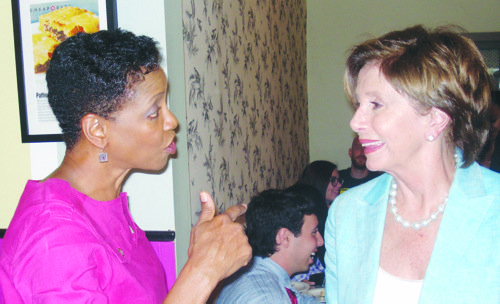 Women succeeding in the workplace will help boost the middle class, a message Democrats hope will resonate with voters in the November elections.
That's why House Minority Leader Nancy Pelosi (D-Calif.) and Rep. Donna F. Edwards (D-Md.) promoted the idea at an event entitled, "Middle Class Jumpstart: 100 Day Democratic Action Plan to Put the Middle Class First" inside a jam-packed Shortcake Bakery in Hyattsville. Pelosi outlined three priorities for the plan: raise the minimum wage to ensure equal pay for equal work; employees earn paid sick leave; and provide affordable child care.
"Over 60 percent of the people making minimum wage are women. We must unleash the power of women if you want to have the full potential of economic growth in our country," Pelosi, 74, told the primarily female audience that numbered about 50.
The event held August 5 focused on women who contribute to America's workforce and economy, but face challenges because of Republican opposition in the House. Pelosi said House Democrats across the country will disseminate the middle-class agenda during this month's recess.
Portions of the "Middle Class Jumpstart" document reveal how Republicans voted to give tax breaks to companies that ship American jobs overseas, weaken domestic violence laws that protect women and limit access to early childhood education.
The document also claims Republicans prevented college students from refinancing their loans to reduce student debt and voted to cut Pell Grants.
Edwards, 56, said the average debt for a college student stands at $21,000.
"We know that from one generation to the next generation our students are being saddled with this debt that doesn't allow them to move out of their parent's home [and] doesn't allow them to build a future for themselves," she said. "We have a lot of challenges for our young people who want to succeed."
If Democrats win control of the House in November, they would pass legislation the first 100 days of next year that includes increasing the national minimum wage that averages $7.25 per hour, boost job growth and provide more access to Pell Grants. However, Republicans currently hold the majority with 234 members, compared to 199 Democrats.
Through spokeswoman Erin Montgomery, Rep. Andy Harris (R-Md.) criticized Pelosi and the Democrat's plan.
"Nancy Pelosi was speaker of the House from 2007-2011. During her tenure as speaker, we suffered the Great Recession, which cost the middle class millions of jobs. Then, in 2010, along with [Senate Majority Leader] Harry Reid [D-Nev.] and [President] Barack Obama, Pelosi gave America Obamacare –with skyrocketing health care costs for the middle class," Harris said in an emailed statement. "The only hope for the middle class now is to elect a new Senate majority that can help restore prosperity to the hardworking, middle-class taxpayer."
Meanwhile, Golden Okolo told the audience at Shortcake Bakery she accumulated $15,000 in student loan debt in two years at Hampton University in Hampton, Virginia.
She transferred to Bowie State University in Bowie last year and applied for another $5,000 loan to pay for tuition as she pursues a nursing degree. Okolo said she received a $3,000 grant to reduce her debt to $2,000.