EDITORIAL: Michael Steele Redux
8/13/2014, 3 p.m.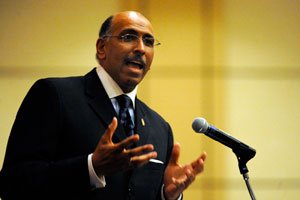 In the end, it appears that Michael Steele couldn't resist the lure of politics. Steele, a former Republican National Committee (RNC) chairman and Maryland lieutenant governor, indicated during an interview with Bruce DePuyt of News Channel 8 this week that he wants to return to public life.
It's not clear yet what position Steele has his eye on but whatever he runs for, it should be lively. Steele is a smart, savvy politician who has made his share of mistakes but he relishes poking his detractors in the eye. As RNC chairman, he ruffled lots of feathers and made his share of enemies and critics.
Steele said he enjoyed his time as lieutenant governor and anticipates serving again in the future.
What he has in his favor is that he ran and won the 2002 governor's race with former Maryland Gov. Bob Ehrlich, Jr. And he also served a two-year stint — albeit a very rocky one — with the RNC.
He fell short in 2006 when he lost a senate seat to Maryland Sen. Ben Cardin.
Last year, Steele played around with the idea of running for governor but decided against it.
Since losing a second term as RNC chairman, he has worked as a commentator on MSNBC. Steele, and former Clinton White House Attorney Lanny Davis, formed the company Purple Nation Solutions, a public affairs firm in 2012. They sold the company earlier this year to Levick, a communications firm.
We look forward to seeing what he'll do.