Farafina Kan Storms into its 10th Year
Performing Arts Company Celebrates at UDC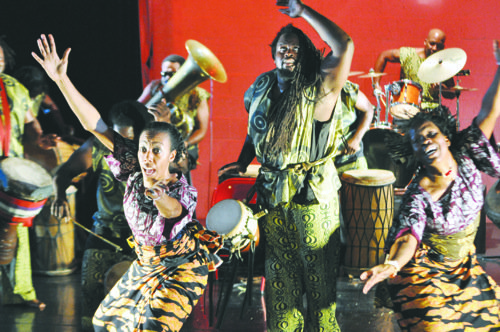 For Nana Efua Badu Osundara, Farafina Kan has been a godsend.
Her two sons, Kwadjo and Kofi are drumming students tutored by Farafina Kan's founder Mahiri Fadjimba Keita-Edwards.
"Both of them are part of the company," said Osundara, whose eldest son Yao also drums with two of Farafina Kan's companies. "We've had rehearsals every Sunday for the last two months. They're looking forward to Saturday. They have been diligent. They keep me on my toes."
"It's teaching them how to grow into themselves. They learn time management and to be responsible for their siblings and each other. It's community," the Northwest resident said. "They have to step up and they learn a lot of life skills along with drumming. Mahiri pulls no punches. He teaches respect, responsibility and discipline along with drumming. The students are also learning rhythms and stage presence. Everything Mahiri's learned he's sharing."
Keita-Edwards, 42, founded the West African percussion orchestra in 2004 and on Saturday, August 16, it celebrates 10 years with an event titled, "Birthright: Farafina Kan 10th Anniversary Celebration." Longtime friend Diallo Sumbry serves as managing director, handling logistics, branding, design elements and taking care of other behind-the-scenes activities.
"I wanted to create an elite company with elite artists," said Keita-Edwards. "Farafina Kan is different from most dance companies that are community-based. Members of our adult company can pretty much have their own company outside. We have artistic and musical directors and choreographers coming together. All of the members have different personalities but can work together because they understand the vision. However, sometimes it's difficult to bring all those people into one space."
Keita-Edwards, an ethnomusicologist who began drumming at five, said the group has between 14 and 20 dancers and drummers in the close-knit family.
"We have members all over the country in different cities and we fly them in," he said.
Farafina Kan consists of an adult professional company, a junior company, a children's company and a youth ensemble. The junior company is made up of members' children, nieces, nephews and offspring. The children's company is students who've been playing with Farafina Kan since the age of two, while the youth ensemble is composed of students, children, nieces and nephews of the adult company as well.
"Most companies have been together 30, 40 years. It's a big deal because we kept the vision for 10 years," he said. "It's not easy to keep a company of this caliber. Then it trickled down to three other companies."
Farafina Kan has a large and loyal following and the D.C.-based outfit has traveled widely and has performed at the Smithsonian Museum and most recently members turned it up at the D.C. Commission on the Arts and Humanities-sponsored free Summer Performance Concert held at St. Elizabeths East Campus grounds on July 25.
The music is derived from the traditions of the Mandingue people of West Africa. It is traditional music blended with the composite experiences of Africans born in America, spiced up with contemporary music such as reggae, blues, jazz and hip-hop.