Farafina Kan Storms into its 10th Year
Performing Arts Company Celebrates at UDC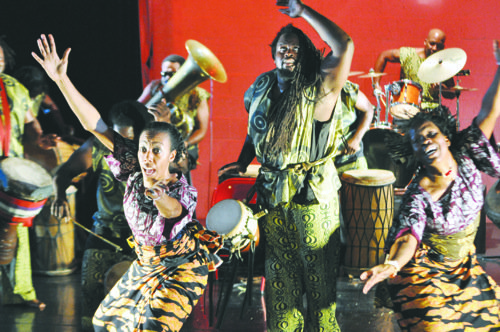 "They're the best at what they do. They have bridged the gap and they represent the best of both worlds – Africa and America," said Malandela Zulu, a Maryland-based artist, art teacher and master drummer.
Sumbry and Keita-Edwards said they've always strived to maintain African history, traditions and culture through the arts with their group, which when translated means "The Sound of Africa." Both men said that under the tutelage of several international performing arts legends, Farafina Kan seeks to sustain that work through professionalism, artistry, continual learning and the proactive intergenerational transmission of African culture through music and movement.
The young artists at Farafina Kan have been reared in other dance companies, including but not limited to, Memory of African Culture, Sankofa Dance Theatre, KanKouran West African Dance Company, Dono Drum and Dance Ensemble, Maimouna Keita West African Dance Company, and Wose Dance Theatre.
"What makes it unique is because what we do is cultural," said Sumbry, who began drumming at age three. "I love the camaraderie, the energy and the creative process. When we work together, it's like making magic. In between shows we're listening to music, and everybody chips in with ideas. It's like a gumbo, you know what I mean? It's a flavor. You can't create what Farafina Kan gives you. It's a natural thing. Everyone understands that what we're doing is our birthright. It's who we are. We don't have to do anything else to represent this."
Sumbry, 39, said it's important to showcase Farafina Kan.
"It's necessary to show people what we've produced. We've listened to our elders. Everything we're doing we've been taught," he said. "This is not just a show, it's living and breathing and we're the ambassadors. It's not just a job, it's nieces, nephews, family."
The celebration kicks off at 5:30 p.m. with a red carpet and VIP reception, sponsored by Diamond District Wines, Konscious Caterers and Asli Pure. The event is co-hosted by Benin's Ambassador Omar Arouna and the DuPont Brass Band will perform. Doors open at 7 p.m. at the University of the District of Columbia Theater of the Arts. Mayor Vincent C. Gray, members of the D.C. Council, African ambassadors and other cultural stakeholders from around the District are slated to attend.
"Birthright" is sponsored in part, by Busboy's and Poets and the Anacostia Art Gallery and Boutique.
Keita-Edwards and Sumbry said the celebration promises to be something special.
"Folks should come out. You don't want to miss it because everybody will be performing," said Osundara with a laugh.
Ultimately, Keita-Edwards said he's most gratified to be able to give back.
"I play congas and West African stick and hand percussion instruments from Senegal, The Gambia, Mali, Guinea, Ivory Coast and Ghana," he said. "Most ethnomusicologists have not lived or worked with the people they're studying. I've been to the Ivory Coast, Guinea and Senegal sitting and learning, living with the people. I've also visited Colombia, Venezuela, Japan, Germany, France, Belgium and Hong Kong."
"I enjoy passing knowledge on to the next generation. That is my specialty. I'm content right now if I hang up my drumming as a performer as long as I'm working with youth and passing knowledge to them. If there were two gigs – teaching or a concert – I'd choose teaching. If the money was equal, I'd pack up my drums."
Keita-Edwards said a number of young people he's taught are growing with the music. He pointed to Yao Hunt, Osundara's son, who's set to attend Norfolk State University in Virginia Beach next semester, and Sumbry's son Kweku, who just completed a summer program at the famed Berklee School of Music in Boston, Massachusetts.
"They [Hunt and Kweku] have a foundation of African drumming and it's going contemporary," he said "My biggest triumph was trying to get five young people into Duke Ellington (School of the Arts). Four got in. I watched them leave middle school and move on to Duke Ellington based on their African drumming. I was like, 'Wow, we're doing it.' From there, college was the next level."