Festival Promoted Peace, Achievement Among Youth
William J. Ford | 8/13/2014, 3 p.m.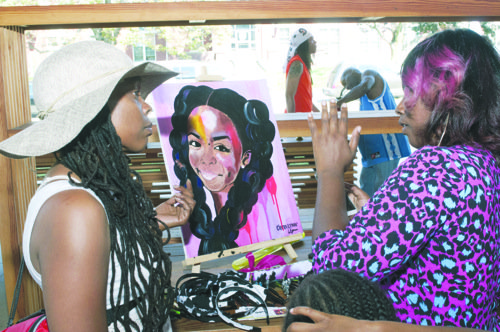 Those who attended the Art of Peace Comm-Unity Festival enjoyed hot dogs and hamburgers, listened to live go-go music and watched a fashion show on top of the Gateway Pavilion at the St. Elizabeths East Campus in Southeast.
Festival organizer Ronald Moten stressed that youth and young adults in Ward 8 must avoid violence and work toward a goal that ensures a much brighter future.
"We have so many young people who are doing good work using their gifts and entrepreneurial spirit," said Moten, 44, of Southeast. "We must support them and get the word out that they are capable of doing something positive."
A group of teenage girls from Ward 8's Woodland Terrace neighborhood not only modeled elegant gowns, but they also fashioned two T-shirts emblazoned with the phrases "Peace Starts w/Me" and "#theGreatWard8."
When Lauryn Snider found out the T-shirts will be sold at Martha's Table, a thrift store and clothing distribution center in Southeast, her eyes sparkled and she smiled.
"I wanted to do something I've never done before," said Lauryn, 15, who will enter the 11th grade this month at Anacostia High School. "It was fun. I also want to be a model when I grow up."
Two major organizations helped to sponsor and catered the July 26 event: the Jack Kent Cooke Foundation, named after the late Washington Redskins owner, provided a $10,000 grant and the Far Southeast Family Strengthening Collaborative Inc. (FSFSC) donated hundreds of hot dogs, hot dog rolls, hamburgers and hamburger buns.
The best part for visitors such as Maceo Thomas – he could relax and enjoy the festivities.
"I have never been here before [to the Gateway Pavilion]," said Thomas, 43, of Southeast. "I wanted to come out and support [Ron Moten]. This is a really nice event."
Mike Ham, 50, traveled from Northeast to take in the sights and sounds of the day.
"This event is cool. I heard about it and wanted to see what it was about," he said while devouring a hot dog smothered in ketchup.
Many strolled around the grounds and stopped at various tables to browse. The artisans showcased an array of items that included clothing, candy and jewelry.
A mother and daughter team from Southeast sold water-filled hula hoops and artwork. SeKisha and Bria Brown named their businesses "hArt to Heel Creations" and "Heal N Hoop."
"Our [intention] is to encourage people to use art as a way to heal [themselves]," said Bria Brown, 19, an architect major at Morgan State University in Baltimore. "My mom and I started this a year ago and wanted to share with others how art can relax you, no matter what you may be going through."
Another mother-daughter team from Northeast sold vintage clothing, shoes and jewelry at the festival. The "Rag-Dollz Collective" an online operation, has been in existence since 2007. Monjae Edmonds, 19, said she benefits from events such as the "Art of Peace" because she's learning how to run a small business.
"Besides coming out for a good cause, I am learning about customer service and how to sell various items while working with my mom," she said.