R.I.S.E. Demonstration Center Offers Computer Training and More
Former Chapel Transformed into Tech Center
D. Kevin McNeir | 8/13/2014, 11 a.m. | Updated on 8/20/2014, 3 p.m.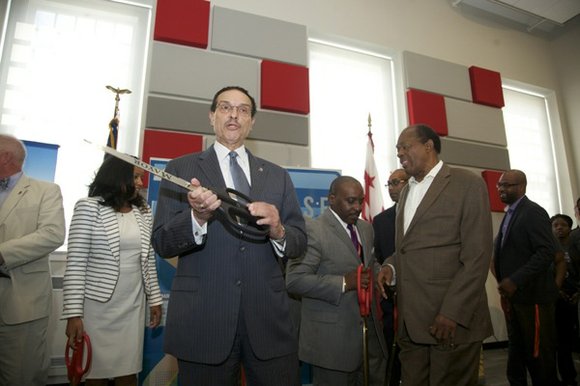 Most people would agree that in today's world, attaining success in any endeavor can often be linked to an individual's ability to navigate the new technology.
Businessmen, students of all ages and jobseekers alike continue to realize that being conversant on the latest gadgets and gizmos sparked by the computer age have become a prerequisite to their survival. Last Wednesday, more than 100 citizens welcomed a highly anticipated new tech space located in Southeast that once served as a neighborhood chapel.
"This space helps answer the call of Ward 8 residents for innovative pilot projects that address the need for job growth and economic development in their community," said D.C. Mayor Vincent C. Gray during the opening of the center on Aug. 13. "I am pleased to cut the ribbon on the R.I.S.E. Demonstration Center, a critical investment in Ward 8 that will serve as a resource for building technical skills and connecting residents to entrepreneurial opportunities," said Gray.
Members of the community chose the name for The R.I.S.E. Center that stands for Relate, Innovate, Stimulate and Elevate and which years ago served as the chapel on the St. Elizabeths East Campus. Amenities include: two large demonstration and lecture halls for conferences, technology displays and exhibits; a computer lab offering training for residents, seniors, small businesses and others; and a demonstration, entrepreneurship and career conference area.
Similar to the St. Elizabeths Gateway Pavilion (Gateway DC), the demonstration center will remain in operation for approximately 10 years while the permanent innovation hub continues to be developed. Part of the funding for the $8.3 million dollar project came from the District's "forWard8: Investing in Our Future Initiative," which awarded $2.5 million to support a group of District-led career training and business development projects for Ward 8.
One longtime advocate for the renovated space said bringing the center to Southeast has stayed at the top of her list of priorities.
"The community wanted the chapel to remain because of sentimental reasons and its transformation is quite beautiful," said Mary Cuthbert, advisory neighborhood commissioner for 8C. "Because of this new learning space, many of our children east of the river will have access to topnotch technological and business training right in their own backyard. We've got to get our children into the technology age."

Cuthbert said she will soon move her offices to the lower level of the new center.
Microsoft has already signed on as a tenant for the new technology hub – a major perk that will certainly help users of the facility as they seek to improve their computer skills.
"We have committed to bringing a Microsoft Innovations Center to this space in a few years but in September we'll begin to offer classes, showcase our devices and provide literacy camps," said Donna L. Woodall, Microsoft Corporation citizenship director. "Youth are consumers but we want them to be developers. Some youth are already creating apps and making upward of $50,000 a month. We want to help more young people and adults become application developers, grow their own businesses and maintain a web presence."
Microsoft has partnered with other technological companies including FIRST [For Inspiration and Recognition of Science and Technology] – a nationwide nonprofit based in New Hampshire devoted to helping young people discover and develop a passion for science, technology, engineering and math.
During the ribbon cutting, several youth from a local high school shared their views about learning more about robotics as participants in the FIRST Robotics Competition.
"I want to become a robotics engineer so that I can build more effective prosthetic limbs for injured veterans," said J'Niya Butler, 15, an 11th grader at McKinley Technology High School in Northeast. "I've learned better time management and the importance of setting deadlines and then sticking to them."
Another student, also from McKinley Technology High School, said learning about robotics and other technology came easier than he expected.
"Before I became involved in the FIRST program, I didn't know anything about robotics but when you have the resources and mentors to guide you, learning becomes easy," said Cabrel Foyet-Fokou, 17, who lives in Southeast and will be in the 11th grade when school resumes. "This center will be help me continue to learn more about the advances in technology."