Men Should Make Their Health a Priority
John M. Thompson, Ph.D., FAAMA Executive Director, D.C. Office on Aging | 8/13/2014, 2 p.m.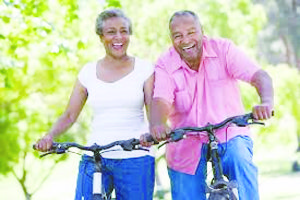 According to the Centers for Disease Control and Prevention (CDC), men are 5-10 percent more likely to have heart disease and be morbidly obese as compared to women. Men with such chronic diseases must closely monitor their health and make a concerted effort to change their lifestyles to prevent further health complications. Unfortunately, the failure to make these changes could lead to greater chances of hospitalizations, premature nursing home admissions, and even death. According to the National Center for Health Statistics (NCHS), men have a higher death rate for the following diseases: heart disease, cancer, cerebrovascular disease, chronic lower respiratory disease, diabetes, pneumonia/flu, and HIV infection.
Consequently, the staggering death statistics result in a shorter life expectancy for men as compared to women. CDC reports that black males have a life expectancy of 71.4 years compared to 77.7 years for black females; white males have a life expectancy of 76.4 years compared to 81.1 years for white females; and Hispanic males have a life expectancy of 78.5 years compared to 83.8 years for Hispanic females. According to the Men's Health Network, the gap of life expectancy between men and women is resulting in more women experiencing poverty.

Poverty among widowed women stems from the loss of the husband's income after death, expenses involving the care of the husband, and funeral expenses. Men's Health Network reports that widowed women are 3 to 4 times more likely to live in poverty compared to married women of the same age. In another statistic, the U.S. Administration on Aging reports that over one-half of elderly widows now living in poverty were not poor before the deaths of their husband.
In viewing the startling statistics, I hope that you are motivated in joining me to make positive changes in the District. It will take a village of committed family members to ensure that our men are making every effort to get their annual checkups, to see their doctors when they experience physical abnormalities, to eat healthy, and to adopt active lifestyles including physical fitness. The government offers support to ensure access to quality resources that help the District's men. For example, through the Affordable Care Act, men on Medicare can receive their free annual wellness visits, as well as preventive screenings for a number of chronic diseases. Let me also add that men 60 years of age and older can take advantage of the District's six senior wellness centers, which offer free health and wellness programs such as chair aerobics, Tai Chi, hand dancing, strength training exercises, nutritional counseling, nutritious meals, social engagement, and educational offerings, among other activities.

Men, I hope to see you at one of our six senior wellness centers! Please call us at 202-724-5626 if you need information about the senior wellness centers.