MUHAMMAD: Washington NFL Nickname 'Not For Long'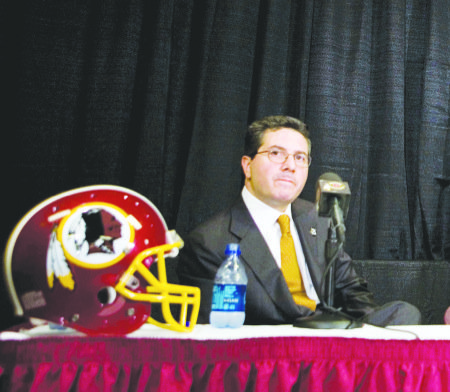 There is an expression that's sometime used among National Football League players, particularly when they are hazing rookies, just coming into the league. Young players are often warned that the letters "NFL" pertain to them and they mean "Not For Long."
There is one name in NFL circles (not that of a player, however) which has been around far too long. It is the nickname of the Washington franchise, and despite the protestations of team owner Daniel Snyder – who says he's NEVER (and you can put that in capital letters) going to change the team's racist name and logo; it's not going to be around for long. Not for another 80 years, you can count on that.
Everywhere you look, another nail is being driven into the coffin of that ugly sobriquet. For the last 12 years – since the 500th anniversary in 1992 of the journey to the Western Hemisphere by Christopher Columbus – Native American groups have been loudly demanding that the team's name be buried in the dustbin of racist history where it belongs.
In 1999, after a seven-year battle before the U.S. Patent and Trademark Office, a group of First Nations plaintiffs won a judgment and the patents, giving the team exclusive right to that hateful name and logo, were rescinded. The team appealed and on a technicality called "laches," a court overturned the Patent Board decision in 2003, an appeals court upheld the lower court, the Supreme Court declined to rule on the case and the name remained.
Laches is a legal term, which means someone failed to do something in the proper time. In other words, the original plaintiffs, including Native attorney Suzan Shown Harjo, waited too late to appeal the name. So … another group of Native American plaintiffs, younger people who could not possibly have complained before they did, filed another complaint.
Again this year, the Patent Board rejected the name. That was a big victory. Of course the team appealed again, and it remains to be seen how the courts will rule this time. What that means is that the team will no longer have exclusive rights to the name and moniker. Any old sucker could manufacture gear with that tacky team name on it, and Dan Snyder and Co. would have no legal protection. Cha-ching!
Meanwhile, 50 U.S. senators, joined the D.C. Council, objecting to the name. The senators sent a letter to the NFL Commissioner asking him to intervene, in the same way the NBA got involved in the racist behavior of L.A. Clippers owner Donald Sterling.
Martin O'Malley, the governor of Maryland where the team's stadium is located called for a name change. Meanwhile Gene Simmons, front man for the rock group Kiss, blasted the name in a way that should have hit close to home for Dan Snyder, who is Jewish.
"I would not like a sports team called the kikes," Simmons said recently on Fox News. "If you take the historic point of view – and I'm not the one to validate it or not – if Redskins was an insult to American Indians, then absolutely, the team should change its name."