Swimmers Take the Plunge for Victory
Youth Swim Club Captures Fourth Consecutive Title
D. Kevin McNeir | 8/13/2014, 3 p.m.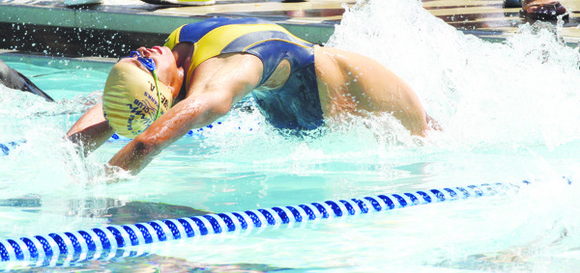 Swimming tops the list as one of the best forms of exercise, practically working all of the muscles of the body and improving strength, cardiovascular fitness and endurance.
However, a group of youth between eight and 18 have added fun and competitiveness to the equation as members of a Prince George's County swim team. The results have been stellar.
"We started with only five children – three wanted to learn how to swim and two were teenagers and lifeguards who were drafted by their parents – dedicated parents that donated their time, money, talent and energy into building a team," said Michelle Jordan, president of the Theresa Banks Swim Club.
The nonprofit organization, founded in 1990 in Glenarden, Maryland, had little difficulty finding interested youth who either wanted to feel safe in the water or wanted to compete in state-sanctioned swimming events.
"These [children] bring a new perspective on the sport of swimming in a time when it is always written that blacks don't swim," said Jordan, a resident of Landover, Maryland. "They dispel the myth and show me every day that anything is possible if you set goals and put your mind to it. It's helped me to understand that we must continue to both grow our program and help these youth."
The swim club practices at the J. Franklyn Bourne Memorial Pool in Seat Pleasant, Maryland and competes in the Prince-Mont Swim League as part of 40 teams in seven divisions. Theresa Banks, one of the teams in the "A Division," recently won its fourth consecutive divisional – a feat even more impressive because the majority of the swimmers are black.
One Southeast resident who now serves as a coach for the team said swimming left an indelible mark on her life.
"I learned many life skills through the sport of swimming – I learned about determination, time management and leadership," said LaTisha Webb, 29. "I started with the club when I was five and remained until I aged out at 19. I [competed] in college but continued to assist with coaching. It's great being part of a winning championship team but there's a bigger picture – showing our youth that with hard work anything is possible."
The swim club fills a void in the black community that could save young lives. According to the USA Swimming Foundation, about 70 percent of black children, 60 percent of Latino children and 40 percent of white children are non-swimmers. The Centers for Disease Control and Prevention has similar statistics.
"Lack of access and financial constraints account only partly for these numbers," said author Lynn Sherr in her book, "Swim: Why We Love the Water." "Fear, cultural factors and even cosmetic issues play a role as well. Once whites discovered swimming, blacks were increasingly excluded from public pools and lifeguarded beaches. As a result, many minority parents never learned how to swim – directly or indirectly, they conveyed their fear of the water to their children."
One Landover, Maryland teen said since joining the team he has become more outgoing and open to meeting new people.