U.S.-Africa Summit Signals Change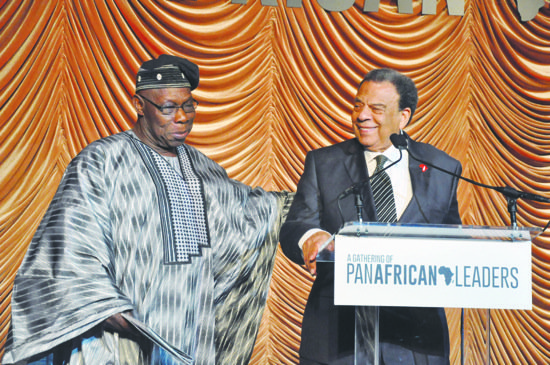 From his vantage point two days after the conclusion of the historic U.S.-Africa Leaders Summit, Ambassador Michael A. Battle declared the summit a success, but with the caveat that a great deal of work lies ahead.
Battle, in his capacity as ambassador and senior advisor for the summit, helped plan and organize the slate of activities on Aug. 4-6.
"It doesn't mark a new relationship with Africa, it marks a continued and enhanced partnership of the U.S. with Africa," he said. "From what we heard from African heads of state and the ambassadorial corps, it was an amazing success. President (Uhuru) Kenyatta said during remarks at the Brookings Institution the two things he liked were that they were in direct conversations with President Obama and that there were no lessons – the leaders engaged as equals."
"That it was the first time there was as much of a presence of private sector representatives. One hundred top African business leaders and 100 from the U.S. private sector participated. That has never happened before."
The summit brought together 51 African presidents, prime ministers and kings – the largest gathering any American president has ever hosted.
African Union Chairwoman Dr. Nkosazana Dlamini-Zuma said the leaders held frank discussions with Obama in a cordial atmosphere.
"We're grateful to the president for hosting this summit," she said during an Aug. 6 press conference at the Africa24 television studio in Northwest. "The hope is that the implementation of issues will develop as quickly as the summit."
Dlamini-Zuma said it would be beneficial if the tone and tenor of the summit extends to the relationship developed between American private-sector companies and African governments.
"It makes good business sense for them to be in business in Africa," she said. "If they don't, they will surely lose. Doing business in Africa is not charity. I think when it comes to business, they will come."
Dlamina-Zuma said each side came with their priorities, which in the case of the African contingent centered on infrastructure development, health, women, young people, peace and security.
"The set of issues we came with did find prominence in our discussions," she said.
Many African leaders have their critics. Some have been accused or implicated in corruption, malfeasance and abuse of power; others have jailed, murdered or exiled critics, journalists, and members of the opposition. And some notables have stolen vast amounts of cash and salted it away in foreign banks. Meanwhile, as ordinary citizens endure precarious existences, leaders and the political elite enjoy gilded lives.
Protesters held placards and banners in front of some venues, but it's unlikely the leaders, safely ensconced in their phalanx of motorcades saw them as they were whisked from place to place.
Mel Foote, 63, long immersed in African affairs, said Africa has made significant strides despite myriad challenges.
"Governance in Africa has gotten better in the last 20 years," said Foote, who founded Constituency for Africa 25 years ago. "New countries were set up by former colonial powers who installed people to do their bidding. They didn't pick the best and brightest, such as Sani Abacha and Idi Amin. Africa is trying to move forward and is moving forward. Africans are trying to figure out constitutions and the rule of law. Ghana, Botswana and Mozambique are doing well but you don't hear about those countries. And Paul Kagame brought his country, Rwanda, back from genocide."