U.S.-Africa Summit Signals Change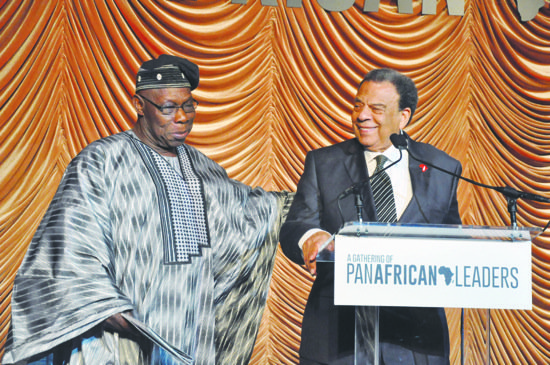 Critics like Emira Woods, an associate fellow at the Institute of Policy Studies, however, remains unmoved.
"They have reinforced the status quo," she said of the agreements and pledges during a panel discussion on Talk Africa, a program produced by Chinese Central Television (CCTV)-Africa. "Inequality is the biggest issue of our time. The haves have gotten more and the have-nots are pushed to the side. The summit was a wonderful photo-op. Very little was concrete. It was the CEOs of extractive industries coming together to make deals with heads of state, exploiting people to benefit the one percent. We didn't get the substantive changes needed on the continent or the global economy."
Battle, who served as U.S. ambassador to the African Union from 2009-2013, referred to the trade talks that dominated the summit and the estimated $33 billion in investment and new trade commitments, as indicators of the keenness with which the Obama administration, businesses and the private sector seek to facilitate Africa's growth and development.
During remarks at the U.S.-Africa Business Forum on Aug. 5 at the Mandarin Oriental Hotel in Southwest, President Barack Obama spoke of the importance of forging close ties.
"This summit reflects a perspective that has guided my approach to Africa as president," he said. "Even as Africa continues to face enormous challenges, even as too many Africans still endure poverty and conflict, hunger and disease, even as we work together to meet those challenges, we cannot lose sight of the new Africa that's emerging."
"We all know what makes Africa such an extraordinary opportunity. (It has) some of the fastest-growing economies in the world, a growing middle class, expanding sectors like manufacturing and retail, (and) one of the fastest-growing telecommunications markets in the world. More governments are reforming, attracting a record level of foreign investment. It is the youngest and fastest-growing continent with young people that are full of dreams and ambition." 
Coming out of the forum, American companies announced $14 billion in African investments, including $2 billion from General Electric, a $5 billion investment from Coca-Cola to finance manufacturing lines and production materials; $200 million from Marriott Hotels in investments spread across Africa; and a pledge of $66 million from IBM to provide technology services to Fidelity Bank in Ghana.
"Part of what is essential for building infrastructure is access to electricity and power," said Battle. "President Obama has initiated Power Africa which will be a substantive part of building infrastructure."
Power Africa is a privately funded project launched by Obama last year to build 10,000 megawatts of new power generation capacity for 20 million new customers across the continent by 2018.
Last week, Obama announced an additional $12 billion in commitments from the World Bank, the private sector and the Swedish government. This is expected to increase the number of households and businesses on the Power Africa grid to 60 million.
Ron Busby, CEO of US Black Chambers, Inc., said African-American businesses will certainly profit as the volume of trade and commerce ratchet up. The big problem, he said, is and will be the inability of black firms to take full advantage, but partnerships are one way to counter that problem.
"I believe that there are significant advantages to doing business. Opportunities are outside the U.S. but if you look at the firms we own and operate, we're small businesses," said Busby, who founded the Chamber in 2009. "We're mom and pop businesses. We have to experience growth in our own firms in America then take steps. When the tech boom hit, black firms were left out, not because they didn't have the desire or technology, but because of size and scale. If you look at the new economy in Africa, the challenges are the same."