Bowie State University Student Wins 2014 Top IT Showcase Award
WI Web Staff | 8/14/2014, 11:38 a.m.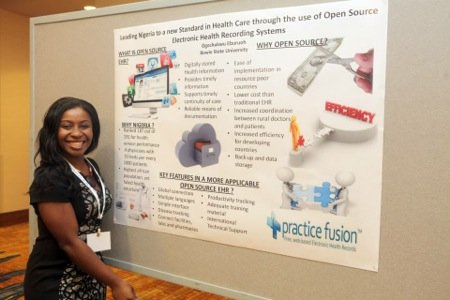 Ogochukwu Eburuoh, an honors student at Bowie State University who migrated 16 years ago from Nigeria, has won a top honor from a national technology organization.
Eburuoh, graduate magna cum laude next year with a doctorate in osteopathic medicine, earned first place in the 2014 #BDPA IT Showcase with her presentation and research on "Clinical Quality Control: Leading Nigeria to a New Standard Through the Use of Open Source Electronic Health Recording Systems."
Eburuoh, a student member of National BDPA's Washington, D.C. chapter, was one of many student participants in BDPA's annual regional technology summits and Advance Program Briefing to Industry, co-hosted earlier this year by Bowie State University and the BDPA's D.C. branch.
BDPA, formerly known as Black Data Processing Associates, is a community of information technology professionals and sponsor companies working together to develop mutually beneficial relationships.
The D.C. branch will co-host the organization's 40th anniversary events concurrent with its International Technology Conference and Career Expo at the Washington Hilton Aug. 18-23, 2015.