Unrest Roils Ferguson
D.C. Demonstrators Add Voice to Protest
Barrington M. Salmon | 8/15/2014, 12:13 p.m. | Updated on 8/19/2014, 3 p.m.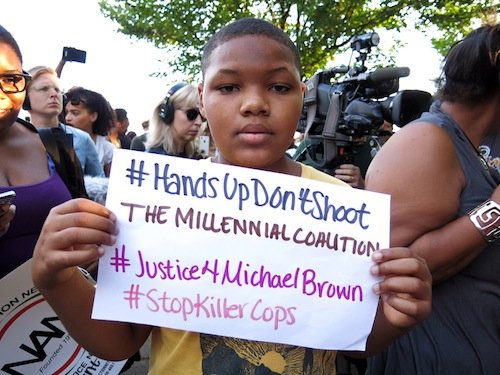 More than a week after Officer Darren Wilson shot and killed 18-year-old Michael Brown in Ferguson, Missouri, the standoff between protesters and police continues to escalate.
Over the weekend, St. Louis County and Ferguson police renewed their military-type tactics against those who've been protesting since the Aug. 9 killing. In an effort to enforce a midnight to 5 a.m. curfew imposed by Gov. Jay Nixon, police protected local businesses from those outliers intent on destruction and theft and also lobbed tear gas and smoke bombs to break up peaceful groups of demonstrators.
This latest round of civil unrest followed a press conference Friday, Aug. 15 where Ferguson Police Chief Thomas Jackson — after six days of public pressure — revealed Wilson's name but he further inflamed residents by releasing a videotape which purports to show Brown taking almost $50 worth of cigars from a convenience store shortly before he was shot. Residents and critics accuse Jackson of trying to justify Brown's murder because he was a criminal.
Michigan Congressman John Conyers likened what's been going on in the small Midwest town to the civil rights era.
"A few facts are clear: A young, unarmed man was shot by a police officer. A small town is under what is essentially martial law. Tear gas and rubber bullets are being used against everyday citizens. Serious and sweeping civil rights violations may have taken place in Ferguson, Missouri," he said. "The tragic killing of 18-year-old Michael Brown and the events that have transpired since the shooting in Ferguson are reminiscent of the violent altercations that took place during the civil rights movement. Countless African Americans endured unwarranted hostility and excessive force from law enforcement while exercising their right to peaceful assembly and civil resistance."
"It is a great travesty to find ourselves again witnessing the blatant violation of our right to peaceably assemble in Ferguson. As documented by journalists and people on the ground in Ferguson over the last week, state and local law enforcement have grossly mismanaged any attempts to peaceably resolve the situation … removal of the St. Louis County Police Department from any involvement in the policing of Ferguson is an important step toward restoring peace and allowing for an independent, thorough investigation to take place. The people of Ferguson deserve nothing less."
Across the country, including in Washington, D.C., concern about the extra-judicial killings of black men and women prompted marches and demonstrations in solidarity with Brown and other victims. Last Thursday, about 2,000 people, mobilized by social media and spurred by disgust and anger at yet another shooting death of an unarmed black teen by police, gathered at Malcolm X Park in Northwest.
Organized by Black Youth Project 100 and other activist and social justice groups in the city, the Aug. 14 rally remembered Mike Brown and other victims accosted by police as part of a national moment of silence observed in Baltimore, New York and other cities.
Members of the crowd carried signs and placards, chanted for justice, stood with fists in the air and held their hands up in surrender.