Vaccinations Curtail Spread of Diseases
Dorothy Rowley | 8/18/2014, 10:58 a.m. | Updated on 8/20/2014, 2 p.m.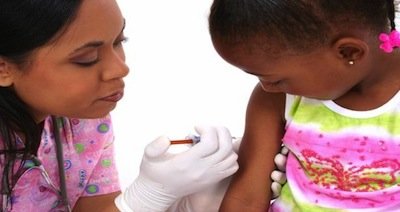 With the first day of classes for District public schools students just around the corner, parents and guardians are reminded of the importance of ensuring children are properly vaccinated.
In the District, the new school year begins on Monday, August 25, and in order to protect the health of all students from serious and potentially life-threatening diseases like polio, measles, whooping cough, and chicken pox, school and health officials are continually encouraging up-to-date vaccinations prior to enrollment.
"Over the past few decades, vaccines have been effective at stopping diseases," Dr. Saul Levine, a former interim director of the DC Department of Health, said, referring to the Healthy Schools Act, signed into law in 2010.

"Because we do not see these diseases very often, it can be easy for us to forget how serious diseases like measles, mumps and polio can be," Levine said in a statement. "Records show that [as of 2012] some diseases like measles and the chicken pox [have started] to come back as the number of children getting vaccines in some school districts has dropped."
To that end, all school-age children need vaccinations, and those attending District schools can be prevented from attending classes until the vaccines are administered.
Otherwise, while children ages 4 to 6 need shots of four vaccines: DTaP (diphtheria, tetanus, and pertussis), chicken pox, MMR (measles, mumps, and rubella), and polio, all children ages 6 months and up – including pre-teens and teens – need TDap (Tetanus, Diphtheria, and Pertussis), HPV (human papillomavirus), and MCV (meningococcal conjugate virus) vaccines.
In Prince George's County, school officials have announced new immunization requirements for the upcoming year that starts on Tuesday, August 26.

Those requirements, involving students entering kindergarten and the 7th grade, have the kindergarteners receiving two doses of the Varicella (chicken pox) vaccine, and the older students receiving a single dose of the TDaP (Tetanus, Diphtheria and Pertussis) vaccine along with a dose of the Meningococcal (Meningitis) vaccine.
However, all students from kindergarten through grade 12 must have received two mumps and rubella vaccines – and any student without appropriate documentation will have 20 calendar days to comply.
"Thanks to vaccines, most of these diseases have become rare in the United States," said Dr. Anne Schuchat, director of the National Center for Immunization and Respiratory Diseases at the Centers for Disease Control (CDC) and Prevention in Atlanta, Georgia. "But many still exist here, and they can make children very sick, leading to many days of missed school, missed work for parents, and even hospitalization and death."
Schuchat added that getting children all of the vaccines recommended by the CDC's immunization standards is one of the most important steps parents can take to protect their children's health and that of classmates and the community.
However, some parents have reservations about inoculating their children, fearing that the shots can lead to autism. Others cite religious beliefs and medical reasons for foregoing the vacccinations, and interestingly, many of those parents tend to be white and well-educated, according to a national study conducted in 2010.