Academy of Hope Offers Second Chance
Adult Education Available at D.C.'s Newest Charter School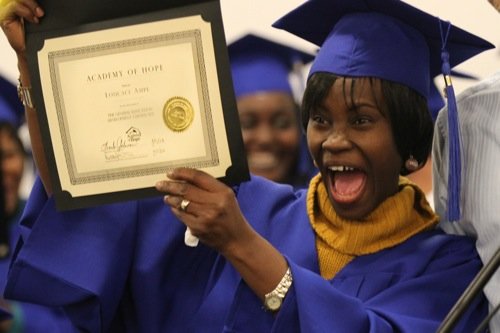 After graduating from Cardozo Senior High School, James Chase started a construction apprenticeship.
On his first day of work, he recognized his biggest shortcoming. He wasn't comfortable with his math skills and he had difficulty figuring out measurements needed to properly perform his tasks.
"I remember when my lead foreman told me I was stupid. I was so upset," Chase said. "Am I stupid? That's when tears came down my eyes, not for what the foreman said, but for not paying attention to my weaknesses ahead of time."
Chase represents a compelling statistic. One in five adults in the nation's capital lack a high school diploma and one in three adults cannot read a newspaper or a map, much less complete a job application. That's where the Academy of Hope plays a vital role.
"The Academy of Hope is like coming home to me because when you are home you feel comfortable. There are no barriers, all your mindset and fears, your doubts, everything you have to put it down. When you come here you put it all down," said Loucace Ampe, who moved to the United States from West Africa 18 years ago and, in just 18 months, conquered the General Education Development (GED), and graduated from the academy in May.
Ampe, a married mother of two, has started studying for a bachelor's degree at the University of the District of Columbia (UDC) and said her interests lies in working with people and on computers.
She said the Academy of Hope has instilled in her a sense of pride and an ability to reach for and obtain her goals.
"I didn't think that I would learn so much after not being in school for 18 years, and I didn't think that everything [previous knowledge] would come back to me," she said. "But, the people here (at the academy) were a tremendous help to me."
Headquartered in Northeast, the Academy of Hope received approval for a charter late last year and will launch as the seventh adult charter school in the District in September.
"We're going from a small nonprofit with 20 staff members to about 40 full-time staffers," said Daquanna Harrison, the school's instructional director. "We will have 300 students on a consistent basis," said Harrison, who noted that the recent economic downturn actually resulted in being a blessing in disguise for adults without a high school diploma or GED.
She said the Great Recession showed that even those with education degrees and comfortable jobs were also susceptible to economic and other problems, factors that have led to more adults seeking educational assistance.
Founded in 1985, the Academy of Hope offers evidence-based academic instruction which school officials couple with strong workforce training.
Earlier this year the academy's executive director Lecester Johnson received the Georgetown University's Legacy of a Dream Award which salutes and celebrates excellence among emerging nonprofit leaders who work to solve key issues to help improve and positively shape the District.
"Adult education and literacy are such fundamental pieces of our social fabric, and this is a tremendous opportunity to shine a light on the need of thousands of adults who are looking for quality education and literacy services to improve their lives and those of their children," Johnson said during her acceptance speech at Georgetown University in Northwest.