CURRY: White Cops Kill at Least 2 Blacks Each Week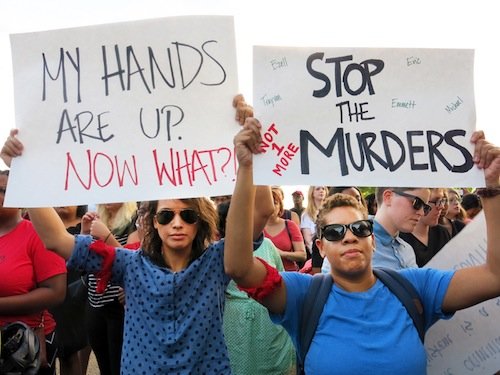 Occasionally, police officers behave in such as dastardly manner that it captures international attention. There was the 1997 famous video of four White LAPD officers taking turns clubbing and kicking Rodney King nearly beyond recognition after a high-speed automobile chase. In 1999, on the opposite coast, an unarmed, 23-year-old Amadou Diallo was killed after four policemen fired 41 times into his Bronx, N.Y. apartment, striking him 19 times.
In New Orleans, Robert Davis, a retired elementary school teacher, was returning to his hometown after Hurricane Katrina in 2005 to inspect the damaged family home. He went to the French Quarters to purchase some cigarettes. Four White officers, who suspected him of public drunkenness, accused Davis of resisting arrest and began beating him. An Associated Press producer filmed a video that showed no indication of resistance.
Timothy Thomas, 19, was shot to death in Cincinnati in 2001 by Patrolman Stephen Roach. The officer said he thought Thomas was armed – he wasn't. The shooting touched off the largest urban unrest in the U.S. since the L.A. uprising a decade earlier.
And the list doesn't stop there: Sean Bell, Oscar Grant, Frank Jude, Jonathan Ferrell, Kathryn Johnson, Kendrec McDade, Timothy Standsbury, Jr., Kenneth Chamberlain and so many more.
Three more names were added to the list in the past month: Eric Garner of Staten Island, N.Y.; Ezell Ford of Los Angeles, and now Michael Brown, the 18-year-old unarmed victim in Ferguson, Mo.
Police kill African-Americans more frequently than you may realize.
According to stats compiled by the U.S. Department of Justice, an unarmed African-American died at the hands of an armed White police officer at the rate of nearly two per week from 2005 to 2012. Over that 8-year-period, 400 police killings were reported per year. White officers killed a Black person, on average, 96 times per year.
Of those, 18 percent of the African-Americans killed were under the age of 21, compared to 8.7 percent of Whites.
As bad as those figures are, they grossly understate the problem. The FBI statistics are based on the voluntary reporting of local law enforcement jurisdictions. Currently, approximately 750 of 17,000 law enforcement agencies regularly report their figures to the FBI. That means if the ratio holds true for all 17,000 agencies, the annual 96 Black deaths at the hands of White cops could be as high 2,170 a year or almost 42 (41.73) per week – nearly six per day (5.94).
To be conservative, let's presume that the death rate for the non-reporting law enforcement agencies is only half of those now reporting. That would still be approximately three Blacks killed by a White police officer every day.
According to the Officer Down Memorial Page, which catalogues the deaths of all law enforcement officials, 416 cops were deliberately killed in the line of duty from 2005 to 2012, an average of 52 a year from 2005 to 2012.
Using the most conservative data, Blacks are almost twice as likely to be killed by police as cops are likely to be murdered in the line of duty.