A Passion for Fashion: Anacostia Designer Jarmal Harris Stitches Together a Successful Career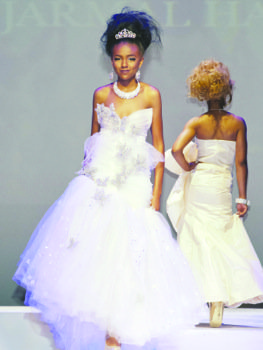 Creativity, ingenuity and a desire to help others are the foundations on which District fashion designer Jarmal Harris has built his career.
Harris, 25, began working as a fashion designer not long after a personal tug-of-war he waged between pursuing life under the bright lights of Broadway or designing women's gowns and cocktail dresses. Recently, he displayed his deft fashion skills during an August 10 show titled, "Once Upon A Time," at THEARC in Southeast.
"Basically, the show was about a little girl who has a dream of being a supermodel. A fairy godmother appears and it's almost like a Cinderella theme," said Harris, who grew up in Anacostia. "The show is a dream where anything is possible," he said.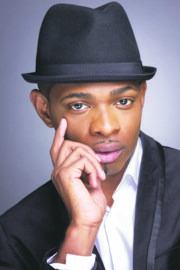 Anything possible has been a theme befitting Harris' foray into the fashion world.
He attended the famed Duke Ellington School of the Arts in Northwest for one year before transferring to what he called the District's worst learning institution, Ballou Senior High School in Southeast.
"D.C. may be our nation's capital, but once you peel away the tourist attractions, there's a world of the underprivileged, living a life in constant danger," Harris said. "Statistics suggest that one in every 13 people who live in Anacostia will experience crime at some point in their lives."
However, for Harris, he called growing up in such a tough and sometimes unforgiving neighborhood, a golden opportunity for success.
Instead of sulking about having to leave Ellington, Harris became active at his new school where he captained Ballou's modeling team and, while his love of the theater proved ever present, he seized the opportunity to work with female models and carve out a niche in fashion.
He traveled to New York to intern for fashion mogul, Cesar Galindo, who first achieved fame when supermodel Karen Mulder sported his washed silk kimono dress on the cover of Elle magazine in July 1993.
Galindo, 47, has designed period costumes for the Miami Ballet and the Houston Grand Opera. He's created designs for Calvin Klein, Levi Strauss and Dolce & Gabbana, and he's customized pieces for Madonna, Mary J. Blige and Sara Jessica Parker.
"Jarmal Harris is super talented. His passion, charisma, and style will take him a long way in the fashion industry," Galindo said. "He has a bright future ahead of him."
Those who've worn his clothing or attended Harris' fashion shows agree.
"The ideas he's shown have been an inspiration because it keeps me honest about my wardrobe, particularly when I'm going out to dinner or a formal event," said Sheila Tucker, a Southeast resident who said she has three Harris-designed dresses.
For Harris, there's much more to life than simply designing the hottest trends and becoming a beloved figure in the close-knit industry.
He said despite being raised under difficult circumstances and having to make the most of a negative situation, his goal remains to help others. He said he will continue using his success to achieve that mission.
"What we've done is that we've teamed up with agencies around the District like the Summer Youth Employment Program where individuals from 14 to 21 can find summer employment and we offer a six-week program in which we hire these young ones and they are paid and they get valuable experience," Harris said.