D.C. Political Roundup: 
Ward 8 Democrats Organize GOTV Effort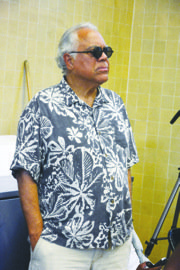 One of the District's most active Democratic clubs kicked off its efforts to have a strong voter turnout in the Nov. 4 general election on Saturday, Aug. 16 at the Southeast home of former D.C. Council Chairman and current D.C. Democratic National Committeeman Arrington Dixon.
Dixon hosted the Ward 8 Democrats Get-Out-the-Vote program with a cookout in his backyard. Dozens of Democrats who live in Ward 8 and several party members from across the city attended the cookout to stress the importance of voter participation.
"We want to increase the number of people in Ward 8 that are voting," Dixon said. "We want a strong vote to support our Democratic candidates in the fall."
The D.C. Board of Elections recently released statistics that showed that there are 53, 676 registered voters in Ward 8. However, in the April 1 primary for mayor only 16 percent of the ward voted and in the July 15 special election for the ward's vacated D.C. State Board of Education seat only three percent participated.
Natalie Williams, the president of the Ward 8 Democrats, said that the organization will spearhead an aggressive push to get ward residents politically engaged.
"The problem in Ward 8 is not voter registration," said Williams, 43. "The problem is participation and we want to stress to people that they have the right to exercise their vote. Our forefathers went through a lot in order to get African Americans the right to vote and the least we can do to honor them is by participating."
General election candidates such as at-large council hopeful Michael D. Brown, District attorney general contenders Edward "Smitty" Smith and Lorie Masters, and representatives for D.C. Council member and Democratic Party mayoral nominee Muriel Bowser and at-large council aspirant Khalid Pitts, enjoyed a catered buffet meal of chicken wings, fish filets, coleslaw, baked beans and sipped iced tea and bottled water while talking District politics. Williams said that she has heard that many people don't vote because of the perceived low quality of the candidates for office. She dismisses some voters' perception of that belief.
"I would say to anyone that doesn't like the people who are in office or running to step up to the plate," she said. "What are you doing to make things better?"
Dixon, who served on the first District of Columbia Council in 1975 representing Ward 4 and has been working as an elected official or volunteer in politics since that time, agreed with Williams.
"Political participation has been up and down over the years depending on who is running," he said. "However, it has not grown as it should have over the years. We are having this Get-Out-the-Vote project to get more Ward 8 residents participating because this is a crucial time in this city and a lot of issues have to be settled." 
GOP's Hammond Rejects Corporate Funding
The D.C. Republican Party's candidate for council chairman, Kris Hammond, recently announced that he will not accept corporate contributions during this campaign cycle.
"Our elections should not be for sale to the highest bidder," Hammond said. "Corporate contributions frequently create conflicts of interest and appearance problems. People begin to wonder who the real voters are."
Political observers consider Hammond's rejection of corporate contributions unusual because Republican candidates tend to rely on the monetary support of business groups and wealthy individuals.
On Aug. 9, Hammond's campaign reported that he raised $17, 310.18 after four weeks of fundraising. He announced his intention to challenge D.C. Council Chairman Phil Mendelson (D) on July 12.
Hammond has called for Mendelson to make the same pledge. Mendelson, who faced minimal opposition in the April 1 Democratic primary, has not publicly responded to Hammond's challenge.
Nevertheless, Hammond's campaign plans to work to get money and support from District residents.
"The campaign is encouraged by the financial support received thus far given such a narrow time frame," said Rina Shah, a spokeswoman for the Hammond for Chairman Campaign. "We believe that the financial support will continue as District voters become more aware of the campaign."