P.G. County Proposes Facelift at Watkins Regional Park
William J. Ford | 8/20/2014, 3 p.m.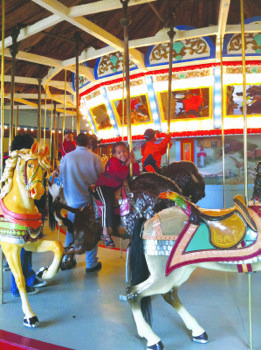 I.C. Young of Capitol Heights recalled his own history after he biked around a portion of the park eight times on his limegreen bicycle.
"When my boys were young, I took them to the playground," Young, 51, said while pointing toward the playground area. "I now have to work out to keep up with my boys who are now 16 and 13. Watkins Park allows me to stay in shape and ride my bike around this beautiful land."
Mary McIntosh and her twoyear-old grandson Anthony Smith smiled and held hands after riding the miniature train. They continued to hold hands walking across the street to the playground area where Anthony held McIntosh's hand as he tiptoed on a balance beam.
McIntosh, a retired conference coordinator from Fort Washington, said a similar park's needed in the southern portion of the county.
"Tucker Road [Community Center Park in Fort Washington] doesn't have any shade and no train ride like here," she said. "My oldest grandson is 23, so taking care of [Anthony] is no problem. Watkins Park has plenty for him to do and keeps him busy."
When told about the park's facelift proposal, Wright, 41, said the work would improve the grounds. "My husband said we should host a family reunion here. There are plenty of pavilions to use," she said. "It would be a nice place to have one here. Whatever renovations, or upgrades [that are scheduled] should enhance the park. This is a really nice place."