SCLC Focuses on Ferguson Riots
Missouri Shooting Subject of 56th Annual Conference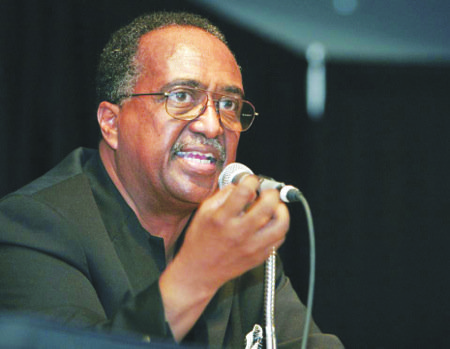 As protests and violence continue to rock Ferguson, Missouri, in the wake of the fatal shooting of an unarmed black teenager by a police officer, the comparisons to the fight for civil rights and the chaos that served as its backdrop have been almost unmistakable for those who fought for freedom 50 years ago.
And, those who were there, including members of the Martin Luther King-founded Southern Christian Leadership Conference (SCLC), have reaffirmed the message the slain civil rights champion stood for: they've stressed nonviolence.
"Fifty years after the signing of the Civil Rights Act and 51 years after Dr. King led protests here in Birmingham, Alabama, the SCLC must again do what we did back then, and that is march and seek justice but do it in a nonviolent way," said SCLC President and CEO Charles Steele.
"We don't want to be premature in our judgment, but we must deal with law enforcement and the lack of law enforcement training throughout this country. It's a serious issue," said Steele, 68, who hosted the 56th Annual SCLC Convention in Birmingham, Alabama, from Sunday, Aug. 10 to Wednesday, Aug. 13.
Steele's guests at the convention included the Rev. Jesse Jackson, activists Dick Gregory and Dr. Bernice King and actress Robin Givens.
The conference featured an interactive business session, global empowerment luncheon, film premiers, book signings and discussions, a celebrity fashion show and a closing commemorative breakfast.
Key sessions of the convention included a civil rights veterans roundtable that featured foot soldiers of the civil rights movement; the luncheon, "Race and Racism in America: Global Achievement of Women Empowerment," which honored successful national women; a discussion on the State of Green Energy and the Stand Your Ground Law and a discussion on the state of black males in America.
While Steele's vision continues to point the SCLC in a global direction and to assist civil rights efforts around the world, much of the focus of the convention proved to be the ongoing unrest in Ferguson, where police used tear gas and smoke bombs to scatter protestors.
Cell phone video that's been broadcast on television networks around the country showed officers aiming semi-automatic weapons at demonstrators while some in the crowds reportedly threw objects that included Molotov cocktails at officers.
Steele said it's nearly identical to what peaceful demonstrators faced during the tumultuous battle for equal rights in the 1960s.
"No form of violence will bring about a reasonable solution," Steele said. "Looting, picking up guns, the destroying of human life is not going to be tolerated."
However, Steele also quickly noted that those who are truly mourning and individuals who are dismayed because of the perceived injustice are not the ones causing the violence.
"A lot of times the protestors are being infiltrated by adversaries and the violence is being done by adversaries," he said, before drawing another comparison to the civil rights era.
"Even with the Memphis sanitation workers when King went down there to help them, there were adversaries who infiltrated that march and created violence just to make King look bad. It's something that we must be aware of," Steele said.