Top Coders from the National Capital Region Capture High School Computer Competition
Perry Carter, President, BDPA Washington, D.C. | 8/20/2014, 2 p.m.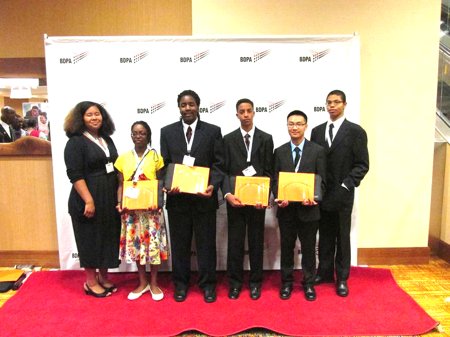 Regional High School Computer Competition (HSCC) Champions from the National Capital Region, BDPA-DC, and BDPA NoVA competed with other top coders from across America during the National High School Computer Competition's scholarship rounds at the JW Marriott Indianapolis during the National BDPA (NBDPA) Technology Conference.


The nation's top five HSCC teams for 2014 are Washington (DC), Greater Columbia (SC), Southern Minnesota (MN), Atlanta (GA), and Cincinnati (OH). National HSCC Scholarship rounds include information and communication technology (ICT) theory question and answer sessions with industry trivia or current events, application design, development, and test sessions upon receiving real-world desktop or mobile app requirements, followed by oral presentations with technical demonstrations to industry panels judges, sponsors, hiring managers, or technical recruiters. 

Giving Back

Regional stakeholders provide financial support, in-kind services, volunteers, keynote speakers, industry panelists, competition judges, and role models enabling local HSCC and IT Showcase teams embrace technology, travel to technology conferences such as BDPA14 in Indianapolis to compete for scholarships, and tour corporate technology centers and headquarters venues within the region.  
This year's corporate engagements from industry and BDPA's local mission partners include the following. BAE Systems, bdpatoday, Best Buy, Bowie State University, Cape Fear Productions, Capitol College, Concur, CSC, DC Chamber of Commerce, DC Courts, FireEye, Groupsite.com, Honesty Gourmet, H.O.P.E. DMV, Howard University, HP, IHOP, Joint Educational Facilities (JEF), Lighthouse Limousines, Lindsay Cadillac, Lindsay Lexus, Maryland Cyber, Microsoft, Microsoft Store, Morton Media, National BDPA, National Naval Officers Association (NNOA), Northrop Grumman, Oracle, Patriots Technology Training Center (PTTC), Pepco, Prince Georges Community College (PGCC), Ross Technologies ,Inc. (RTGX), SiriusXM Satellite Radio, Splunk, United States Air Force, United States Coast Guard, United States Navy, YMCA of Metropolitan Washington and other Defense agencies.
National BDPA and BDPA Chapter cities across the United States celebrate NBDPA's 40th Anniversary in 2015. The District of Columbia and NBDPA's Washington, D.C. Chapter  will host an International Technology Conference & Career Expo at the Washington Hilton next year, August 18-23, 2015. 
About BDPA

The mission of BDPA (formerly Black Data Processing Associates) is to bridge cybersecurity, information technology (IT) and telecommunications competency gaps in urban and underserved communities. Local chapter goals in the National Capital Region (NCR) are to provide technology and IT training programs with educational outreach services for professionals and youth in the Washington, D.C. metropolitan area in direct support of technology inclusion (TECH-Inclusion) initiatives, next-generation workforce (NGWF) thrusts, and regional economic development. 

Regional BDPA Chapters and BDPA Chapter Interest Groups (CIGs) also work with information communication and technology (ICT) industry partners to develop workforce pipelines in the National Capital Region (NCR). Regional and local efforts directly support the President's CNCI (Comprehensive National Cybersecurity Initiative), federal agency ICT staffing requirements, and public sector ICT pipelines. 

Founded in 1978, BDPA-DC is tax-exempt under section 501(c)(3) of the Internal Revenue Code.