Gray Dedicates New Chuck Brown Memorial Park
'Godfather of Go-Go' Memorialized at Unveiling of Sculpture, Memorial Wall
dc.gov | 8/22/2014, 12:07 p.m.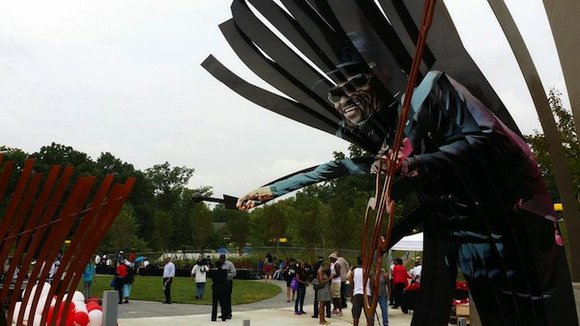 Celebrating what would have been Chuck Brown's 78th birthday, Mayor Vincent C. Gray Friday posthumously honored the life and legacy of the go-go legend at the new Chuck Brown Memorial Park at Langdon Park in Northeast.
Gray was joined by Ward 5 Council member Kenyan McDuffie, Department of General Services (DGS) Director Brian Hanlon, Department of Parks and Recreation (DPR) Acting Director Dr. Sharia Shanklin, Commission on the Arts and Humanities (DCCAH) Executive Director Lionell Thomas, ANC 5C07 Commissioner Nolan Treadway, Chuck Brown's son Nekos Brown and family, architect Michael Marshall of Marshall Moya Design, "Wind Me Up, Chuck!" artist Jackie Braitman and Chuck Brown's manager, band members, fans and friends.
Justine Love and DJ Flexx of WPGC 95.5 were M.C.'s for the celebration, which featured performances by the Da Originalz, Go-Go Fitness LLC and DJ Rico.
"Chuck Brown combined diverse musical genres to help create a distinctive 20th-century American sound that endures in the District and nationwide. He will forever be remembered as a tireless and constant presence in the musical landscape of this city," Gray said. "This memorial park ensures that future generations of District residents and visitors will know about this remarkable man, his music and his connection to the District of Columbia."
In 2012, following Brown's death, Mayor Gray declared Aug. 22, the music legend's birthday, as "Chuck Brown Day" in the District of Columbia, and did the same today. Additionally, to further safeguard Brown's legacy, soon after Brown's passing, the Mayor authored legislation to name a park after the late go-go legend ensuring that one of the District's greatest musical heroes would be memorialized in a way that symbolizes his commitment and love for the city he helped put on the musical map.
"Chuck Brown and Go-Go music are at the very core, the very fiber, of the DC experience," shared DPR Acting Director Sharia Shanklin. "This memorial park was a combined effort between the Mayor's Office, DPR, DGS, DCCAH, the Langdon community, Marshall Moya Design and artist Jackie Braitman; and I hope that residents will enjoy this very deserving tribute to Mr. Brown. He uplifted our lives through song, and now we can honor his music and his legacy for years to come."
Chuck Brown Memorial Park consists of several artistic components. An abstract sculpture entitled "Wind Me Up, Chuck!" marks the entrance to the park. In this sculpture, artist Jackie Braitman creates an interactive art piece that, like many of Chuck Brown's performances, is as much about the audience as it is about the performers. The sculpture signifies the "call and response" associated with Go-Go music and reflects the Godfather of Go-Go's enormous contribution to the city. The park also includes a sloped memorial wall made of colored concrete with various 8 to 12 foot high images of Mr. Brown on ceramic tiles.
"The Chuck Brown Memorial public artwork pays tribute to a local legend, whose music was significant to our many residents and visitors," said Lionell Thomas, Executive Director of the DC Commission on the Arts and Humanities. "It is a symbol of what continues to make Washington, DC a great place to live, work and play."