Back to School: Mix of Excitement, Anticipation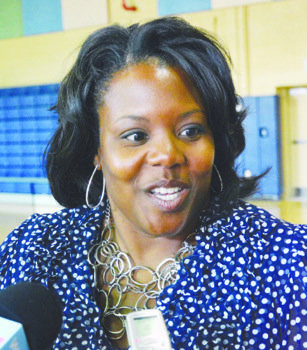 Like Edward Heff, a senior at Phelps Architecture, Construction, and Engineering High School in Northeast, Maisha Riddlesprigger, principal at Ketcham Elementary School in Southeast, could hardly contain her excitement about returning to school on Monday.
With the summer break officially over, Edward 17, had started to seriously consider his goals beyond high school, while Riddlesprigger, 35, anxiously looked forward to the tour she'd give Chancellor Kaya Henderson of her newly-spruced up building that included an opportunity to glimpse the instruction methods of some of the best teachers the District has to offer.
"Believe it or not, I was able to sleep a little last night, as I was really excited about beginning my senior year," said Edward, who wants to attend college in Oklahoma to study architecture. "Throughout the summer, I was coming over [to the school] to do some volunteer work in the office, and before I knew it, the first day of school had arrived."
Riddlesprigger, who's in her second year of leadership at Ketcham, described the first day back to classes as one filled with excitement and commitment.
"We've hit the ground running. Our parents are eager about what their children will be learning, our PTA got together and decided that we'd have new school uniform colors," said Riddlesprigger. "We made great gains in math and reading last year, so we're just excited to continue those gains as we are about continuing our blended learning model which is computer-based learning."
Shangla Joseph, who counted among a cadre of Ketcham parents who accompanied their children on the first day, expressed both excitement and hope about the 2014-15 term.
With her son Jerome beginning the 4th grade, Joseph admitted looking forward to a lot of improvements from her son.
"He did pretty well last year, but he knows I expect a lot better this time," said Joseph. "I like that the school building looks absolutely great, because it's important that the learning environments be as good as the [academics] our children are [provided]."
In making her traditional first day back-to-school rounds at several buildings, Henderson took the time between stepping inside classrooms for an closeup of the interactions teachers had with their students, and their methods of instruction, to high-fived students and asked others about what they hoped to accomplish during the new academic term.
Looking relaxed and ready to forge ahead in her third year at the helm of the 45,000-student system, Henderson, at one point in her friendly banter, shared with Phelps senior Tyner Jackson,17 – who wants to attend Barnard College in New York to study engineering or psychology – that she's a native New Yorker.
"I'm from Mt. Vernon, just outside [New York] City," Henderson said, flashing an infectious smile.
Henderson then turned her attention to the handful of reporters who tagged along, for a discussion about her plans for an exemplary academic year.
"There are a host of [objectives] happening within the DCPS (District of Columbia Public Schools) system that I'm really proud of," said Henderson, 44.