Banking on Industrial Equals Dollars and Sense
Third-Generation Bankers Mark 80-Year Milestone
D. Kevin McNeir | 8/27/2014, 3 p.m.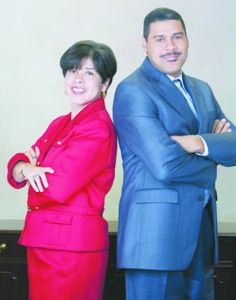 The banking industry, regulated by both federal and state governments, has undergone tremendous change and growth since the founding of the Bank of North America in Philadelphia in 1781.
Mega-banks like JP Morgan and Bank of America dominate the financial services landscape today, but there's still room for smaller institutions whose leaders have mastered prudence, forecasting and can instinctively take calculated risks, like those at Industrial Bank which just marked its 80th year of service in the Washington Metropolitan Area.
"Our employees and friends were so excited when the executives visited all of our branches last week [Wednesday, August 20] and treated everyone to cake – it's just beginning to sink in and it's both daunting and humbling," said B. Doyle Mitchell, Jr., president and CEO of Industrial Bank. "I feel very grateful, blessed and realize that God has done a magnificent thing."
Mitchell, Jr., 52, stands at the helm of the largest minority-owned commercial bank in the Washington Metropolitan Area which in recent years has fluctuated between being the seventh- and sixth-largest black-owned financial institution in the U.S. His sister, Patricia Mitchell, 54, works beside him in their headquarters in Northwest as the bank's executive vice president. The native Washingtonians remain firmly entrenched in a legacy established by their grandfather, the bank's founder and then continued by their father.
"I don't think my grandfather and the eight others who started the initial board could have imagined that the bank they founded would be around 80 years later because many have failed," Patricia Mitchell said, who first began working at the bank when she was 14 during the summer. "But they were simply trying to meet a need – providing mortgage loans to blacks who couldn't get loans elsewhere."
Through its eight branch locations – six in the District and two in Prince George's County – the bank targets communities that have been historically underserved by large financial institutions. Industrial offers an array of financial products and services, such as mortgage financing for low-income and first-time homebuyers – crucial offerings in economically distressed markets.
"Five hundred banks have failed in the last five years, maybe more, and it didn't matter if they were minority owned or not," said Mitchell, Jr. who began his full-time career with the bank in 1984 after earning a bachelor of arts in economics from Rutgers University. "It takes being prudent in lending but that doesn't mean you have to be conservative. You simply have to know the people you're lending to, understand how to protect your company, remain in compliance with the regulations and never go beyond what you know how to do."
One business leader who lives in Northwest said he's witnessed firsthand how Industrial Bank has adjusted to the times and succeeded.
"The fact that three generations of black bankers have made such vital contributions to D.C. is nothing short of incredible," said Harry Wingo, president and CEO of the DC Chamber of Commerce. "The stewardship and leadership provided by Doyle and Patricia have enabled them to overcome adversity and even navigate with success during one of the worst recessions that our country has ever experienced. Industrial Bank has helped to create a vibrant economy in the Washington Metropolitan Area," said Wingo, 48.