Black History Honored in Alexandria
Community Celebrates 75th Anniversary of Library Sit-In
D. Kevin McNeir | 8/27/2014, 3 p.m.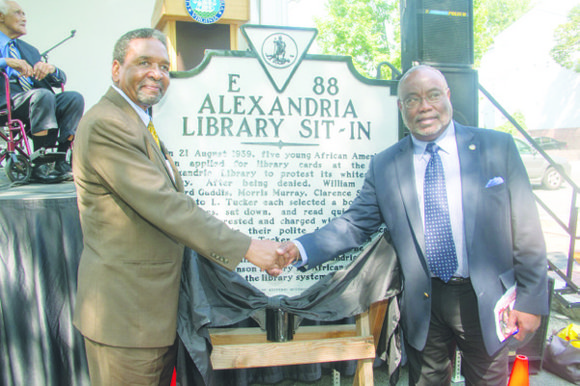 Today's younger generation may find it difficult to imagine a world in which racism and discrimination ruled every aspect of society.
But youth and adults alike recently received a black history lesson of epic proportion that told the story of six trailblazers whose efforts led to the opening of a neighborhood library for all children regardless of the color of their skin.
"The peaceful protest of five young, black men set the tone to make life better for everyone and led to a better quality of life for those in Alexandria, Virginia and throughout the U.S.," said William "Bill" Euille, Alexandria's mayor and the first black elected to the position. "Their actions, while courageous, remind us that we must not rest until all citizens in this land have the same rights and privileges afforded to everyone under the U.S. Constitution, no matter how they may differ."
More than 100 men, women and children gathered Aug. 21 to mark the 75th anniversary of the Alexandria Library Sit-in – a little-known historic event that took place at the site where the city's Kate Waller Barrett Branch now stands. On August 21, 1939, five black men individually entered the segregated building and requested library cards. When denied, each calmly took a book off a shelf, sat down and began to read. After several hours, the police arrested the young men.
"Due to the bravery of five men, William Evans, Otto L. Tucker, Edward Gaddis, Morris Murray and Clarence Strange, along with their attorney, Samuel Tucker, who organized and defended the sit-in protesters, [changes were set in motion] so that today, 75 years later, our library is a community hub that supports all individuals by promoting equal access to books, technology, culture and so much more," said Rose T. Dawson, director of libraries and the city's first black appointed to that position.
One native of Alexandria said more needs to be done in the city and that the work for true equality must continue.
"I remember as a little girl I wasn't allowed to use this library because I was black so in that regard things have changed for the better," said Vanessa Greene, 60. "The city wasn't formally integrated until the 1960s but even now there's still an air of the old South."
One woman who has lived her entire life in Alexandria said she often feels like she doesn't belong.
"I once lived in the projects on Alfred Street and fondly recall days on the playground and holidays like Christmas and Easter," said Lillian Harris. "I was in the last graduating class of the segregated secondary school, Parker-Gray High School. Then our schools were gone, some mysteriously burned to the ground and the projects one day weren't there. Where the people moved to I'll never know but the homes that replaced them cost far more than most blacks I know [could] afford," said Harris, 68.
Participants in the anniversary program included: The Honorable K. Robert Krupicka, Virginia House of Delegates who issued a proclamation; Men of Victory, a choir from Alexandria's Shiloh Baptist Church; Euille; Dawson; and two keynote speakers, Frank Smith, Ph.D. and Patricia Timmons-Goodson.