D.C. Youth Collaborate with Grammy-Nominated Artist Kokayi to Remix Marvin Gaye
8/27/2014, 2:55 p.m.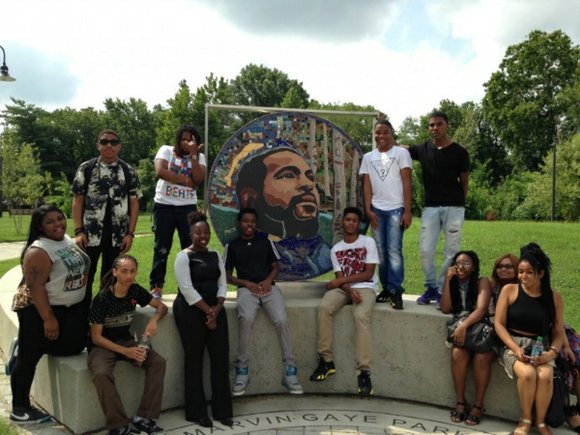 Recent events surrounding justice, race and culture have left our nation with the question, "What's Going On?" This summer, the Humanities Council of Washington, DC's youth leadership program, Soul of the City, answered that question by creating a digital humanities project inspired by music legend Marvin Gaye's life, music and politics and their own reality. As a part of the city's Summer Youth Employment program based at the Department of Human Services, Soul of the City's 16 young people researched Washington and the Nation's history through Gaye's seminal 1971 album, "What's Going On?"
Through this understanding and inspiration, the youth wrote and recorded their own version of the classic title track, "What's Going On – 2014." This remix was produced by Grammy-nominated artist Kokayi and was recorded at WHUR 96.3 FM on the Howard University Campus.
Team members also narrated tours of different neighborhoods that Marvin once called home and institutions that shaped the singer, recorded podcasts about current-day issues that shape their own communities, as well as designed community surveys to gather data from elders about what life was like in 1971.The group's work can be found at whatsgoingoingondc.com
"It was a real privilege to see Marvin Gaye's hometown through the eyes of a new generation of Washingtonians," said Natalie Hopkinson, who was the lead scholar on the project. "From coping with violence to finding love, a lot hasn't changed since the original What's Going On? But today's D.C. youth also grapple with everything from technology overload to gentrification to navigating our schools. I am grateful that the Humanities Council provided a platform for this extraordinary group of young people to engage with the cultural geography and history of our city--and to lift their voices for posterity."