EDITORIAL: Obama and the U.S. in Iraq
8/27/2014, 3 p.m.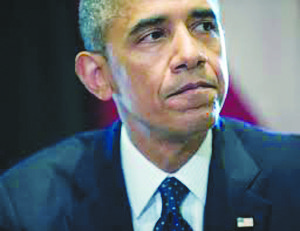 As fighters for the Islamic State of Iraq in the Levant (ISIL) continue their lightning-quick invasion and capture of significant sections of northern Iraq – and their murderous rampage against anyone who's not Sunni – the U.S. is being dragged back into Iraq.
America recently launched bombing raids on ISIL positions around the Mosul Dam and to free fleeing Yazidi tribespeople trapped by ISIL fighters. Just last week, an ISIL fighter decapitated U.S. journalist James Foley on video in an effort to force America to stop the bombing.
President Barack Obama has vowed to rid Iraq of ISIL, which he described as a cancer that must be removed.
The U.S. invasion of Iraq in 2003 to remove Saddam Hussein helped plant the seeds for Iraq's current crisis. And America might not be in this position had it kicked out or reined in former Prime Minister Nouri al-Maliki. He's to blame because he manipulated the political process, marginalized and alienated Sunnis, sidelined anyone he couldn't control or buy, and purged the military of capable Sunni commanders which left the military weakened and vulnerable. Fortunately, he's been forced out and Prime Minister Haider al-Abadi is attempting to form a unity government.
Al-Maliki's incompetence and greed has left the U.S. to clean up his mess as ISIL threatens to overrun the country. ISIL already controls about one-third of Syria and seeks to form an Islamic state – a caliphate – in areas it controls.

Americans are tired of war so we hope President Obama doesn't widen the scope of U.S. involvement in Iraq.