Girls Get Royal Treatment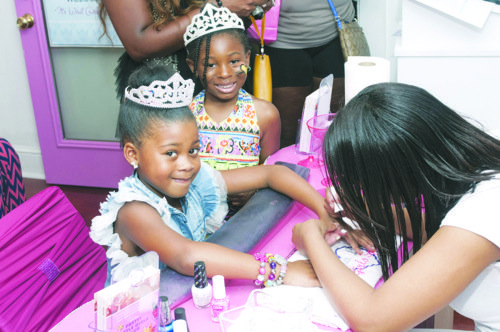 They didn't wear glass slippers or ride in golden carriages but dozens of youngsters received spa treatments befitting a princess during a gathering at a local salon.

More than 100 girls from across the D.C. metropolitan area enjoyed an afternoon of music, food, and games at the Viva La Girls Spa during its grand reopening celebration last month. In May 2013, the local business opened its doors on an up-and-coming business corridor in Upper Marlboro, Maryland.

"It's essential that the girls have a safe place to build their self-esteem," said Karima Ball, who co-founded Viva La Girls Spa with her friend LaTasha Resper.
"We want to emphasize that all girls are beautiful. At the spa, they can be girls, play with their friends, make beauty products, and take some of our enrichment courses. This is where they learn to take care of themselves," said Ball, 37, a Northeast resident.

Upon entering the venue and walking through red doors, the tiny guests painted animals on their faces, checked out their peers' custom wares, listened to remarks from local women entrepreneurs, and grooved to the sounds of Chi Chi Monet and DJ Beauty & The Beatz. The event on July 12 also included appearances from Shannon O'Brien, Miss Maryland International 2013, Crystal Rush, Miss Delaware 2014, Mya Lamp, Little Miss Maryland 2014, and Shenetta Malkia, Ms. Maryland United States 2014.
Malkia said she relished the opportunity to learn about the career goals of some of the young girls who visited the spa that afternoon.

"It's inspiring to see the girls express their beauty among their peers," said Malkia, 34, of Bowie. "We must encourage them to stay true to themselves at a young age. They need that encouragement to stay away from negative influences. To see this vision for this spa come to light is beautiful."
Nancy Holly, an analyst in a federal government agency and mother of a six-year-old, shared Malkia's sentiments. She chatted with other parents as a nail technician filed and polished her daughter's nails. Holly said her daughter later frolicked with new friends.
"My daughter's walking around doing her own thing," said Holly, a Fort Washington, Maryland, resident. "This is the type of activity that she needs. Things like this give the girls opportunities to network and see how their friends do similar things. I would love to come back."
Some girls like Haven Clay showcased their creations and engaged guests in conversation throughout much of the afternoon. In 2012, Haven, 11, launched Bracelet Haven, her custom jewelry business, with her mother's help. Bright red, blue, green, and gold bracelets lined the table where the mother-daughter team set up their space.
"You have to be really creative when making bracelets because they really show the personalities of the people that wear them," said Haven of Upper Marlboro. "Some people bought my jewelry and it made me feel good. I eventually want to be a photographer, fashion designer, and dancer."
Since 2012, Viva La Girls Spa has given girls from across the D.C. metropolitan area a safe space to build their self-confidence and enjoy their childhood. Ball and Resper hosted parties in clients' houses for well over a year before purchasing the Upper Marlboro storefront.

The Girlseum, Viva La Girls Spa's newest attraction, holds a repository of dolls, video games, and information about notable women including Oprah Winfrey and Michelle Obama. This fall, the Viva La Girls Spa will offer yoga, Zumba, etiquette, sewing and foreign language instruction.
For some mothers like Natalie Melton, Viva La Girls Spa's smorgasbord of activities makes it the perfect place for their young ones to spend Saturday afternoons. While trips to the nail salon had long been a ritual that Melton shared with her six-year-old, she said that the venue provided an age-appropriate environment for her daughter to learn about beauty products.
"There's a lot of nice stuff in here for the girls," said Melton, 35, an Upper Marlboro resident. "We have to make sure that we can let them build their self-esteem. At the same time, we have to remind our girls that they're not adults yet. My daughter gets her nails done but she doesn't wear short skirts."