Home Transformed into Art Lovers Treasure Trove
Margery Goldberg's Zenith Gallery among D.C.'s Finest
D. Kevin McNeir | 8/27/2014, 3 p.m.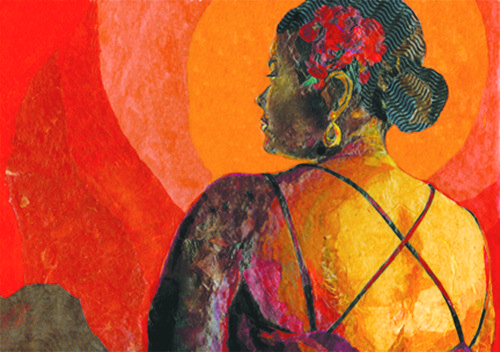 You can tell a lot about a person based on the trinkets, trappings and furniture that they choose for their home.
But one homeowner in Northwest decided to do something unique, combining conventional design with an eclectic array of fine art adorning every nook and cranny in order to transform her abode into a veritable gallery.
"Converting my home into an art gallery was actually based on the established tradition of patronism that became popular in places like Europe where artists and potential benefactors shared encounters in a person's home in efforts to nurture the artist," said Margery Goldberg who opened her Zenith Gallery in 1978. "We look for exceptional artists at different stages of their careers and feature their work — some have been with us for 30 years and are well-known but others have just arrived on the scene," said Goldberg, 64, a successful sculptor in her own right.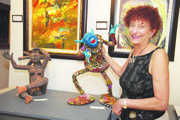 The gallery has been in several locations before the founder and owner, Goldberg, decided to move it to her home. Along with a consulting service, the Rochester, New York native helps artists from the District and around the globe in their efforts to place their works with corporations, institutions and residences.
"There are three areas in Margery's home: a sculpture garden in the rear of the home as well as art in the public space in the front yard; a salon on the main floor that blends the necessities of home with various art media and then the second floor where art merges with the bedrooms and bathroom," said Ella Dorsey, 40, an artist and teacher who currently works with Goldberg as an intern. "Art is everywhere — some are functional pieces like a coffee table, a lamp or a fireplace but they're all for sale."
The basement serves as Goldberg's office, work space and now through September 6, as a place to showcase the works of three artists who hail from California, Nigeria and D.C: Leslie Printis, Doba Alofabi and Chris Malone, respectively. The show, "The Passion of the Media and the Process from a Global Perspective," opened in June and has been extended several times due to its success.
"I am on a journey of discovery, using paper in place of paint to do my bidding," Printis said. "To remove [myself] from the comfort of realism to the unfamiliar territory of abstract design was a huge leap for me. It took me two years to master a technique that would prolong the life of collage work and it's this knowledge that sets me apart from other mixed media artists," said Printis who first established herself as an oil painter.
Goldberg received her bachelor of arts from George Washington University in 1972 but started sculpting with hard woods like walnut and mahogany at the age of 10. Her current 50,000 square-foot complex has an estimated 2,000 pieces of art, the majority of which can be purchased.
"We once had a wonderful art center on Rhode Island Avenue in Northwest but eventually lost it in a zoning dispute with the city," Goldberg said. "It was a place where artists could learn from one another and provided a safe, open space to show their work to potential clients and art lovers. But I was determined to give artists a chance to follow their passions and sought out other venues — I think we have about 200 artists whose works are in the gallery but it's hard to keep count."