James Baldwin, Bayard Rustin Remembered
Multimedia Event Pays Tribute to Two Freedom Fighters
D. Kevin McNeir | 8/27/2014, 3 p.m.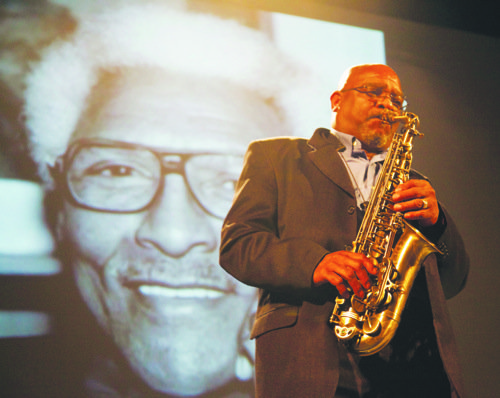 In most cases the accomplishments of individuals whose deeds eventually earned them the distinction of "icon" didn't begin with them intending to be remembered by future generations.

In fact, those whose names and contributions have been recorded forever in history usually had only one thing in mind: following their intuition in order to change the world in which they lived for the better.
And to honor two black men that helped shape the civil rights movement in the U.S., the DC Commission on the Arts and Humanities, along with the DC Commission on the Martin Luther King, Jr. Holiday, held a multimedia event and panel discussion at the Historic Lincoln Theatre in Northwest on Aug. 18.
"James Baldwin said in the 1940s that to be black in America was to be in a constant state of rage," said Kevin Brown, founder and director of the Baltimore, Maryland-based James Baldwin Literary Society. "He was an activist before it was popular and years after his death, we're still celebrating his legacy. His works are part of the core curriculum and he's still a spokesperson for blacks and gays," said Brown who also owns a popular Baltimore restaurant, the Station North Arts Café Gallery.
The event, "Bayard Rustin and James Baldwin: Freedom Fighters and Friends," featured live performances by: Reverb; Princess Mhoon Cooper; S. Xavier Carnegie; Keith Snipes; SynchroniCity; and Russell Lyles. The artists belted out songs, danced, played music and recited works from Baldwin and Rustin.
In addition, the co-sponsors of the event wrote, produced and presented a documentary on the lives of the two freedom fighters – two black, gay men who exhibited the courage to fight for that in which they believed. More than 200 attended the two-hour event.

"Bayard Rustin isn't as well-known as some leaders from the civil rights movement but like Baldwin he was a very gifted man," said Mandy Carter, a self-described "out, southern, black, lesbian, social justice activist" and the co-founder of the D.C.-based National Black Justice Coalition. "In fact, the March on Washington, which brought 200,000 people together on a hot, August day in D.C. was his brainchild. Rustin led by example – we should too," said Carter, 65.
Carter and Brown joined Cynthia Brock-Smith, secretary of the District of Columbia and chair, DC Commission on the Martin Luther King, Jr. Holiday, as part of a panel discussion on the contributions of Baldwin and Rustin. Denise Rolark Barnes, publisher of The Washington Informer, served as moderator.
"We'll take the lessons of this film and the conversation that we've shared as panelists and with the audience back to the commission," said Brock-Smith. "The mayor [Vincent C. Gray] chose to reestablish the Commission so that our children learn our history and can gain the skills needed to take this city to the next level. And as Dr. King showed us, it has to be done peacefully."
One Howard University graduate said she was surprised that based on the documentary, so many college-age youth are unaware of either Rustin or Baldwin.
"Neither Baldwin nor Rustin have been idolized in the memory of our history like King and Malcolm X, therefore by default, people are led to believe that the contributions of Baldwin and Rustin are irrelevant and unimportant," said Ionnie McNeill. "The Commission should hold sessions to educate the District's youth on their rights as citizens and human beings, thereby equipping them with the tools they need to protect themselves and advance their communities. Useful, practical sessions – not more expensive galas with cheap plaques and awards," said McNeill, 25.
Finally, one resident from Northeast said that self-hatred continues to be the biggest obstacle facing the black community.
"The use of culture and the arts in education and social change should be the norm not the exception because they move people in ways that lectures and speeches do not and cannot," said Darryl! LC Moch. "The biggest issue is our ability to love ourselves and each other unconditionally and to find commonality with each other such that we honor and respect each person's dignity and right to live a free, honest, open and just life," said Moch, 45.