AT&T Nation's Football Classic Returns to D.C.
Howard, Morehouse Set to Battle for Final Time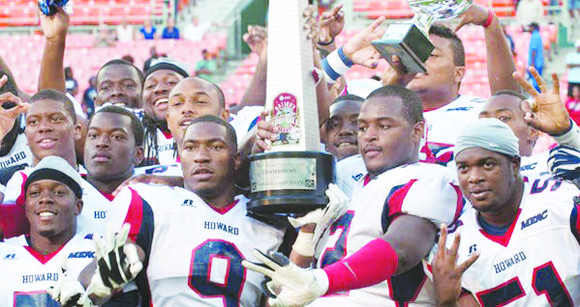 There are sports rivalries that have proven to be legendary.
In baseball, there's none bigger than the New York Yankees and Boston Red Sox. Basketball has the heated rivalry between the Los Angeles Lakers and the Boston Celtics while, locally, hockey boasts bad blood between the Washington Capitals and the Pittsburgh Penguins.
And, when it comes to college football, particularly in the African-American community, not many rivalries stand out like the competition between the Howard University Bison and the Morehouse College Maroon Tigers.
"Its football at its best," said Erik Moses, the managing director of Events DC's Sports and Entertainment Division, the organizer of the annual AT&T Nation's Football Classic, which pits the Bison against the Maroon Tigers on Saturday, September 13 at 3:30 p.m. at Robert F. Kennedy Memorial Stadium in Southeast.
Moses said fans of the historically black colleges and universities (HBCUs) might be witnessing the match up for a final time during this year's fourth annual classic.
"They've had three great games in the classic and we'd like to believe that the rivalry has been resurrected and now it's time to change things up for next year," Moses said.
He said Events DC will soon provide fans and others an opportunity to participate in the decision on which teams will compete in the 2015 classic.
"Make no mistake, the classic will not stop. The teams may be different because we're just switching things up and we should have an announcement in January on that," Moses said.
In the meantime, for Howard, the classic should set the tone for the upcoming season, said Head Coach Gary Harrell, who noted that a lot rides on the big game.
"It is one of those unwritten rules. This game is very important," said Harrell, 42, who's in his fourth season as head coach. "The alumni want to win and we want to win this game as well. This rivalry goes a long way. We have been successful in it, and we want to make sure we continue to uphold the standards and level of play that are going to give us a chance to win this year's game as well."
The Bison scored victories in the first three classic meetings, including two down-to-the-wire wins in 2011 and 2012. "They've all been really good contests," Moses said. "Last year, Howard jumped out to a big lead, but Morehouse came back."
Morehouse Head Coach Rich Freeman said he's appreciated the experience his team has gained by playing in the classic. Despite the losses, Morehouse has come away from each game a little better because of it, Freeman said.
"I really felt the embrace of the D.C. community. People are aware of what Morehouse means and, of course, what Howard means to D.C., what both schools, respectively, mean to our country," said Freeman, 39, a 17-year coaching veteran who's guided Morehouse since 2007. "We are very much rooted in academic tradition and excellence and have prominent alums. We felt it when we went out to dinner. We were well received. And, I saw good crowds in the three games we played."