P.G. County Women's Organization to Make Over Homeless Shelter
8/27/2014, noon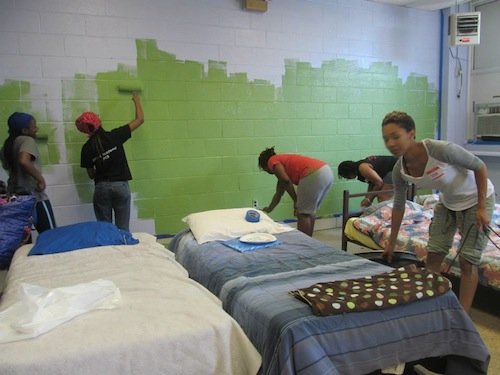 My Girlfriend's House, a Prince George's County organization that works with at-risk middle and high school girls in the region, will complete their fourth Shelter Room Makeover renovation at a Hyattsville homeless shelter on Saturday, Sept. 6, providing new furniture, fresh paint jobs and beautiful home décor.
The St. Ann's Center for Children, Youth and Families, which provides a home and supportive services to vulnerable women and children, will completely overhaul its apartment-style transitional living unit, Faith House, for the event.
Volunteers will paint and decorate all eight Faith House apartments, common living spaces, kitchens, laundry rooms and children's play area.
The semiannual community initiative was created to empower, inspire and uplift women and children living in homeless shelters.
"We get so excited every time we begin prepping for these renovation events," said Veronica Eyenga, founder and executive director of My Girlfriend's House. "We go into the shelters with an agenda: to design, empower and most importantly, party! It's always high energy and we can't wait to bring this party to the children and their moms that call this place home."
The enthusiasm and appreciation is also felt amongst the residents and staff of St. Ann's.
"We are thrilled to be the beneficiary this year and are excited to see how our facility will transform in five short hours," said Sister Mary Bader, St. Ann's CEO. "Our facility houses young women and children in need of a helping hand and My Girlfriend's House and their volunteers are doing just that."
During the past four years, the Shelter Room Makeover Party has made its presence felt throughout the community. As a part of MGH's Homeless Outreach Program, this community initiative has affected over 275 women and children living in area homeless shelters.
"It's inspiring to witness a community of women of all ages and backgrounds come together to serve and uplift each other," Eyenga said.