THE RELIGION CORNER: Nine Principles for Dynamic Living (Part 9)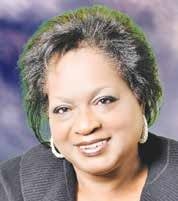 Integrity is defined as doing the right thing in a reliable way, a moral compass that doesn't waver, even when nobody is watching. You will always do the right thing; stick with it, because that's who you really are from within like an orange. Once you squeeze an orange – you get the real thing – orange juice.
This metaphor from Dr. Wayne Dyer fits this principle perfectly. Dyer is an internationally-renowned author and speaker in the field of self-development. He's the author of more than 30 books, has many audio programs and videos, and has appeared on thousands of television and radio shows.

Over the past few years, I've followed Dyer's lectures. This particular message delivered by him struck a chord in me; it captured my attention and caused me to reflect.

He starts off by talking about how one comes to have unconditional love on the inside, no matter what, why one person may love unconditionally and another doesn't; he said, "It's what's on the inside of them, what's in you will come out."

In his video, he talks about how you take an orange and squeeze it – squeeze as hard as you can and ask yourself what will come – orange juice!
Apple juice or grapefruit juice will never come out of an orange. Why does only orange juice come out? He said a little girl sitting up front said; "Well that's dumb! That's what's inside, it has to come out!" Now that's the truth, the reason that orange juice comes out when you squeeze an orange, is because that's what's inside."
Let's extend the metaphor and someone squeezes you? What's inside of you when someone says something about you, and you don't like it, someone behaves toward you in a way you find offensive, somebody does or says something to you, and you feel hurt by it? Then out comes anger, hatred, bitterness, tension, fear, anxiety, or stress. When you waver, and change, you lose your integrity. You no longer are keeping the commitment you made to yourself to show love despite the situation.

Immediately you say the reason that comes out of me is because of how he said it, but the reality is, that what comes out, is what's inside.
Human beings can change what's inside. You're not an orange. The Holy Spirit makes each of us new, born again! Scripture says, "Therefore if any man [be] in Christ, [he is] a new creature: old things are passed away; behold, all things are become new." 2 Corinthians 5:17. What comes out when someone squeezes you the wrong way?
Suppose you are a Christian and you show love at all times, until one day, someone is speaking to you in a negative tone. Do you lose it? We're not perfect, it may happen, get back on track. We serve a forgiving God.

Does the love you possess fully fill you from within, or do you still have seeds of bitterness left behind. When we keep our commitments, our promises matters; our loyalty to someone or something is sealed. It's the attitude of someone who works very hard to remain true.

When anger comes from another, that's what they have within them, don't allow yourself to become like a chameleon and join them. Remain steadfast to your real loving self, no matter what happens!
"Philippians 4:8 – "Finally, brethren, whatsoever things are true, whatsoever things [are] honest, whatsoever things [are] just, whatsoever things [are] pure, whatsoever things [are] lovely, whatsoever things [are] of good report; if [there be] any virtue, and if [there be] any praise, think on these things."
Lyndia Grant is a radio talk show host on WYCB 1340 AM, Fridays at 6 p.m. Visit her website at www.lyndiagrant.com, call her at 202-518-3192 or email lyndiagrant@lyndiagrant.com.