D.C. Mayor Gray, Community Reopen Northeast Library
dc.gov | 2/3/2014, 10:30 a.m.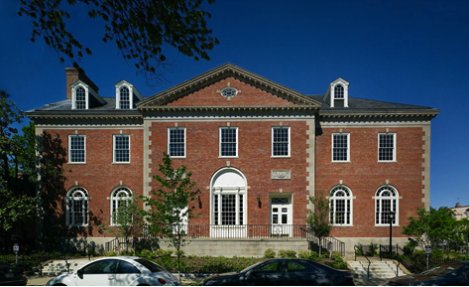 D.C. Mayor Vincent C. Gray joined the city's interim chief librarian Joi Mecks, Ward 6 Council member Tommy Wells and community leaders on Monday to celebrate the completion of renovations at the historic Northeast Library.
The library, which first opened in 1932, is the fourth-oldest D.C. Public Library (DCPL) building still in operation. The renovated building now features state-of-the-art library services and highlights the architectural elements of the Georgian Revival building.
"This gem of a library is now equipped to serve this community well into the future," Gray said. "In practical terms, the building's electrical, heating and air-conditioning systems have been modernized, among other things — enabling this beautiful historic building that has served the Capitol Hill neighborhood for many generations to continue serving it for many more to come."
Located at 330 7th Street NE, the building now supports more public-access computers as well as outlets for plugging in laptop computers. In addition, new spaces were created for children's story times and for public meetings. To keep the building's historic character, many of the library's original wood furnishings were restored or replicated. In addition, historically appropriate materials like cork flooring were used to ensure that newer spaces fit in with the original design.
"It's always wonderful to be able to take a well-loved library and improve it while keeping the building's historic charm," Mecks said. "Because of renovation, long-time library users will find many of the features that make them love this building have been enhanced. In addition, new amenities like more meeting rooms will enhance their visits to their library."
Other improvements made in the $10 million renovation include:
· New plumbing, electrical and HVAC systems;
· Improved lighting;
· Increased space for library programs;
· Dedicated space for teens;
· New quiet study rooms; and
· New restrooms.
Bell Architects and Vines Architecture were the renovation design team. Whiting-Turner Construction partnered with RBK Construction to renovate the library under DCPL's Mentor-Protégé program. Developed with the D.C. Department of Small and Local Business Development, the program pairs small certified local businesses with larger businesses to create more opportunities for smaller firms to work on government contracts.
On Saturday, Feb. 8, the Northeast Library will host a grand-opening party from 10 a.m. to 4 p.m.