Hyattsville Development Pushes Forward
Safeway, Retail Planned for University Town Center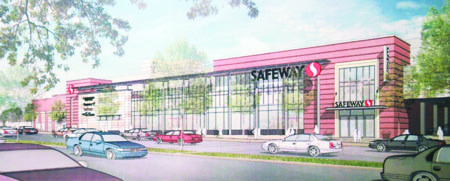 A development project that planners hope will revitalize the University Town Center in Hyattsville, Md., is moving forward with a grocery store and retail development.
Pittsburgh-based developer Echo Realty has purchased 3.5 acres of land part of the University Town Center and announced an agreement to bring a 55,000-square-foot Safeway grocery store to the development in addition to 27,000 square feet of retail space, according to a release from the company.
The development would be two levels and include an upper-level parking garage. The project would sit near the northeast intersection of East-West Highway and American Boulevard, which is currently a large parking lot near The Mall at Prince Georges.
The project could break ground as soon as the spring and the entire development will open for business in summer 2015. 
Howard Biel, senior vice president at Echo, said in the fall that the company is "extremely pleased" by the cooperation of town and county officials.
"We believe very strongly in the location," he said.
The town center was the county's first mixed-use development, but stalled during the economic recession in 2008. Besides the theater and a few smaller restaurants, large portions of the retail space and condos at the town center sit empty. Ultimately, portions of the project fell into foreclosure in 2011 before being purchased by Wells Fargo for $25 million in an auction.
For more Prince George's County/Maryland news, follow @JoshuaGarnerDC on Twitter.