Black Staffers Battle Racism and Discrimination at World Bank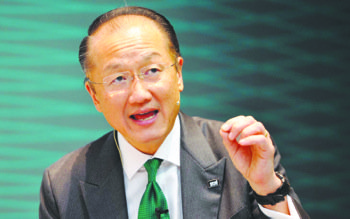 And then it all fell apart.
"A bank director and my immediate manager told me that the Bank could not appoint me Global Manager because 'Europeans are not used to seeing a black man in a position of power,'" he recalled. "They made it seem as if it was the external ICP Executive Board who did not want me to be Global Manager. But several members of the Board testified and rejected the Bank's sworn statements as patently false."
"The new storyline the bank concocted was that I was not considered for the Global Manager position because I lacked management experience. And to give credence to the new storyline, the Bank falsified my employment history, wiping out my entire managerial track record."
Until that time, Biru said, as Deputy Global Manager he was considered by his superiors to be a strong performer managing one of the most critical programs the Bank has ever managed. His original human resources records say he played "multiple roles in the global management of ICP" and he "is praised for his many skills…"
But they were rewritten, he said, to say "he had no role in the management of ICP (and) lacked the core competency and credibility to be a global manager."
A Bank spokesman disputes Biru's accusations, but declined to go into specifics citing privacy and confidentiality issues.
The Bank, which draws its staff of 15,000 from 170 nations – two-thirds from developing nations – is considered the most diverse employer in Washington, D.C.
The tribunal, which heard Biru's two complaints, one claiming breach of promise and racial discrimination, ruled against him. Tribunal rulings are considered binding and irreversible but Biru sought to have the cases reopened.
"These types of cases are very difficult. It gets very heated and emotional," the spokesman said. "It gets very difficult because these things mean a lot. He has strongly held views. We have to vigorously dispute (his) assertions about the environment at the Bank. We do work hard to deal with these issues. And we have a strong commitment to diversity."
Biru said his case is commonplace. For more than 30 years, the World Bank has been scrutinized and criticized for the manner in which it treats its African American and African employees. But as an international entity, was not subject to U.S. laws until recently. The U.S. is the anti-poverty agency's larger donor.
Interviews of Bank staff by the Government Accountability Project (GAP) in 2008 show that only four black Americans held professional positions in a headquarters staff of more than 3,500 professionals.
According to one GAP study, black World Bank employees were 36.3 percent less likely to hold a managerial grade relative to equally qualified non-black employees. In addition, GAP has gotten information about how the Bank treats black employees, especially black Americans. In response to these concerns, GAP conducted an investigation into the Bank's approach to internal racial discrimination.
The Bank itself has conducted several surveys that confirm the depth of the problem in the institution. Blacks are underrepresented at the higher levels of the Bank, and black staffers have complained about the discrimination that surrounds promotion decisions there. The problems prompted several past and present employees to form Justice for Blacks.