D.C. Political Roundup: Bowser Courts Women Voters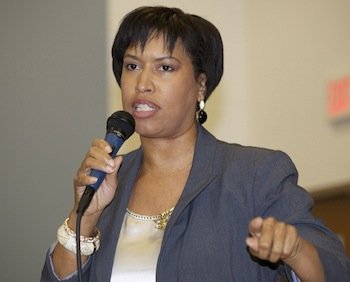 D.C. Council member Muriel Bowser (D-Ward 4) hosted a fundraiser at the Woman's National Democratic Club in Northwest on Jan. 26. Bowser addressed scores of women on her desire to fight for their issues as mayor.
"I am passionate about women in politics," said Bowser, 41. "When women are involved, issues such as domestic abuse, affordable housing and responsible policing are addressed. The police should be responsive to and not preying on young girls."
Fifty-two percent of the District's population is female and it's growing as a potent political bloc. However, only one female has served as mayor of the District since Home Rule: Sharon Pratt Kelly from 1991-1995.
Reta Jo Lewis, a former State Department official, will be on the Tuesday, April 1 Democratic Party mayoral primary ballot this year.
Johnnie Scott Rice, a longtime resident of Ward 7 and involved in District politics as an activist and candidate, said she's a Bowser supporter.
"I am supporting her for mayor because she is the best person for the job," Rice, who has worked as an aide for D.C. Council member David Catania (I-At Large), said. "She is the most qualified person in the race and is dedicated to serving all eight wards. It is time to elect a young African-American woman mayor of the city."
Lori Murphy Lee, an attorney who lives in Ward 4 in Northwest, said that she has watched Bowser and thinks that she deserves a political promotion.
"She is extremely responsive as a council member and super committed to representing her constituents," said Lee, 43. "She is ethical and has the temperament to do the job. She is just what this city needs."
D.C. Statehood Advocates Petition Obama
Leaders of the District statehood movement, like many activists on other causes, have petitioned President Obama on his White House website to work harder to push for their cause. The statehood advocates went to the site on Jan. 29 after Obama delivered his State of the Union Address.
The petition mentions that Obama asks for citizens to participate more in their government and that the petitioners agreed with that. It noted that District residents support its federal government in legal, patriotic ways and that it's time to stand up for the right to vote for the people of the District.
The petition has received 18 signatures but needs 100,000 for it to be delivered to Obama.
McDuffie Gets Major Endorsement
D.C. Council Chairman Pro Tem Kenyan McDuffie (D-Ward 5) launched his bid for re-election on Jan. 25 in Northeast with a major endorsement.
The Service Employees International Union (SEIU) announced it's supporting McDuffie for re-election to a full term. He's one of four candidates seeking the Ward 5 Democratic party nomination on Tuesday, April 1.
"Low-wage workers know that Kenyan McDuffie has been a reliable champion who understands their struggle in a city with the nation's highest income gap," Jaime Contreras, SEIU Maryland and D.C. State Council president, said. "He's been a passionate advocate for paid sick leave and a minimum wage increase which are vital for struggling families."