D.C. Political Roundup: Bowser Courts Women Voters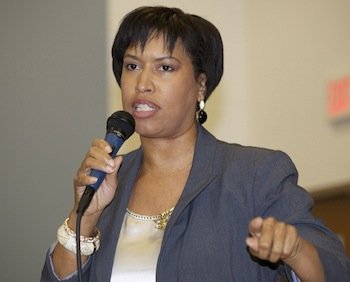 Contreras leads 45,000 members in the areas of health care, public services, education, property services and the non-profit sector.
McDuffie said he's pleased with the nod from SEIU and the support he's getting from across the ward.
"I'm honored to represent Ward 5, a dynamic, historic and diverse community," said McDuffie, 38. "We've made great strides together to improve the quality of life for our residents and today's kick-off is an opportunity to celebrate progress and focus on the future of Ward 5."
Grosso Picks Nadeau
The Ward 1 race for the Tuesday, April 1 Democratic nomination took a major turn recently when a challenger picked up an endorsement from a member of the D.C. Council.
Former Ward 1 advisory neighborhood commissioner Brianne Nadeau is running against D.C. Council member Jim Graham (D-Ward 1).
D.C. Council member David Grosso (I-At Large) wants Nadeau to be his colleague on the D.C. Council next year.
"I am writing today to ask you to join me in supporting Brianne Nadeau in the Ward 1 election," Grosso, 42, said in a written statement. "I recently endorsed her because I know that she will be a strong supporter of good government here with me on the D.C.Council."
The Grosso endorsement is noteworthy given that D.C. Council members rarely get involved in their colleague's political races. Graham has been plagued in recent years by ethics issues on several matters.
Nadeau welcomed Grosso's support on her campaign's Facebook account.
In other news, Ward 1 resident Bryan Weaver will not run in the April primary but instead as an independent in November.