Deltas Urged to 'Turn Up Heat' on Congress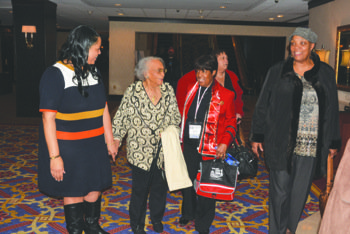 Eight-hundred Delta Sigma Theta Sorority, Inc. members from throughout the country gathered on Saturday, February 1, in the grand ballroom of Washington, D.C.'s Renaissance Downtown Hotel for the 25th Delta Days at the Nation's Capital conference.
Motivated and energized by four days of legislative strategy workshops and issue forums with lawmakers, social activists, and Obama administration officials, participants learned how to effectively convince U.S. senators and representatives to pass bills supporting the sorority's legislative priorities.
"We are here at this time, in this place, at this hour, to deliver an even stronger voice [to elected officials] than ever before!" said Carla Harris, 51, co-chair of the sorority's National Social Action Commission in her opening conference statement. Harris, who is also the managing director of Morgan Stanley Investment Management, added, "We are committed not only to service but to action that impacts social change. We represent those who are disenfranchised, and those whose futures are inextricably tied to what we will do."
Dr. Paulette C. Walker, 65, the sorority's newly elected 25th national president, told the audience, "We Deltas have never had a problem 'turning up the heat' [for social change]." Originally from Detroit, Mich., Walker, who has lived in Tampa, Fla., since 1990, noted that not long after the sorority was founded on January 13, 1913 by 23 African-American women students at Howard University, its members "turned up the heat" by marching in a predominantly white demonstration for women's right to vote.
Under the conference theme "Advocacy in Action: A Stronger Presence – A Stronger Voice," Deltas prepared to meet on Tuesday, February 4 with national elected officials to express concerns about weakened voting rights laws, states' "stand your ground" laws in which individuals under certain circumstances can use deadly force, unemployment, and higher education.
"We enter this second year of our centennial with a purpose: to increase sorority involvement in the [legislative] policy making process," said Walker. "Let's not leave that purpose on the marble floors of Congress. Let's take our purpose to the concrete of our cities' streets. [Social change] starts with us."
Heather Foster, 32, associate director of public engagement in the White House Office of Public Engagement, encouraged the women to support Obama administration efforts to address what she termed the "epidemic" of long-term unemployment in the U.S.
She also asked the Deltas to push for more federal support for Historically Black Colleges and Universities ("HBCUs") when they meet their elected officials. "HBCUs continue to graduate the highest number of African-American students in the country," Foster said.
Frankie Muse Freeman, 97, the sorority's 14th president and the first woman appointed to the U.S. Commission on Civil Rights in 1964 by President Johnson, asked the Deltas to support legislation restructuring voting rights. A U.S. Supreme Court ruling last year repealed a Voting Rights Act provision ensuring federal oversight of states' voting laws. The provision provided crucial protection to African-American voters in Deep Southern states. "I hope all of you are meeting with both of your senators to ask them to support this bill – even if you didn't vote for each one," Freeman said.