Deltas Urged to 'Turn Up Heat' on Congress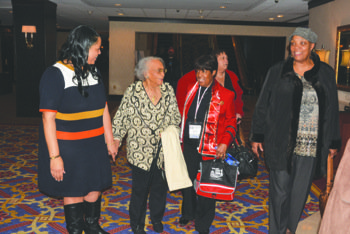 During a February 2 Delta Days issue forum, Dr. Marian Wright Edelman, 74, founder and president of the Children's Defense Fund (C.D.F.), said children's needs should top the sorority's legislative priorities list. A new C.D.F. report, "The State of America's Children, 2014," says children of color in the U.S. are disproportionately poor, with African-American children the poorest in the nation (39.6 percent).
"We African-American women have to take care of business and keep our children from sliding backward," said Edelman.
Edelman asked the Deltas to support the pending Strong Start for America's Children Act, which would provide $90 billion in federal funding for early childhood education to economically disadvantaged children and families. "Three-fourths of Congressional Black Caucus members have not signed on as co-sponsors," she said. "We have to ensure they are on it."
Many Deltas said they couldn't wait to meet with their legislators. "All over the country we've been experiencing a reversal of civil rights gains," said Dr. Uraina Pack, 47, of Pittsburgh, Pa. She said she was especially concerned about campaigns in some states to discourage the right to unionize.
"This is an important part of what we do as Deltas," said Miranda Scott of Monmouth County, N.J. "I believe in service and advocacy. It's what our founders wanted us to do."