EDITORIAL: D.C. Firefighters — To Act or Not to Act
2/5/2014, 3 p.m.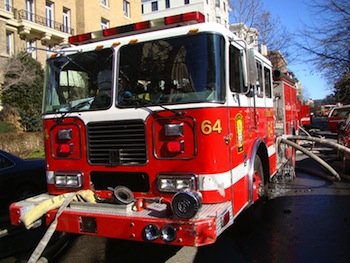 At the time it seemed simple. An elderly man was in distress and a firehouse stood across the street.
But as we now know, the decision by some fire department personnel at the station located near the 1300 block of Rhode Island Avenue led to the death of D.C. resident Cecil Mills.
Repeated attempts by passersby and Mills' daughter to get assistance from the station on Rhode Island Avenue, NE were ignored, one employee even telling Marie Mills to call 911.
Then to add insult to injury, the ambulance that was dispatched to help Mr. Mills, who had collapsed on the sidewalk in the 1300 block of Rhode Island Avenue, went to the wrong address.
Mills, a retired District employee, later died at the hospital from an apparent heart attack.
District residents, Mayor Vincent C. Gray and other city officials are outraged. As they should be.
Yes, we live in litigious times and fear of a lawsuit and attendant liability issues may have had a hand in the firefighters' decision not to help, but what does that say about the mission of the District of Columbia Fire and Emergency Services Department?
That is the $64 million question.
This incident does little to inspire confidence in an organization that has seen its share of problems, including prior cases of delayed responses to aid people in distress, major problems with fleet maintenance, staff shortages and continuing battles over employee schedules.
In the wake of the investigation, there have been comments floating around that the firefighters were following protocol. If that is in fact true, then Chief Kenneth Ellerbe and his command staff need to scrap those protocols, take a fresh and commonsense look at those procedures and make the changes necessary so that this egregious and unacceptable situation does not happen again.
According to several news reports, Lt. Kellene Davis, the officer in charge at the time of the incident, is planning to retire. While one firefighter is on desk duty and another reassigned.
The public is demanding answers sooner rather than later, and we hope that Gray via Chief Ellerbe, will get to the bottom of this mess promptly and mete out the necessary punishment as needed.